Description
Visit Totnes or Buckfastleigh via heritage steam train and vintage bus this February half term!
Join us this February Half Term on the South Devon Railway, with heritage steam trains running daily between Saturday 19th and Sunday 27th February 2022.
Trains will be operating between Buckfastleigh and what is usually the mid-way point on the line, Staverton, with a vintage rail replacement bus operating between Staverton and Totnes Town and Mainline Station. Our train services are not able to run to Totnes due to engineering work taking place where half a mile of track is being replaced, however the replacement bus will still provide a link with Totnes and will allow easy access to Totnes town centre too.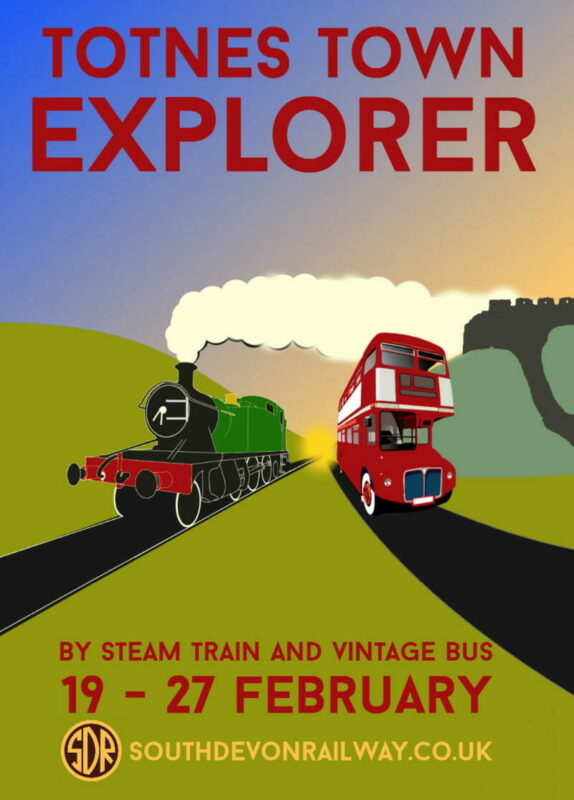 Explore the Valley of the River Dart and Totnes Town
Buckfastleigh Station provides ample free parking, gardens, Riverside Walk, Refreshment Rooms, Gift and Model Shop. If travelling to us by car, we recommend starting your day out from here.
Our historic steam trains will be operating between Buckfastleigh and Staverton only whilst we carry out track replacement works between Staverton and Totnes.
Staverton Station is a nostalgic wayside station that has appeared in various TV and film scenes. On alighting the train here you can enjoy wonderful riverside walks to Totnes, Dartington Hall and Staverton village, including the cosy Sea Trout Inn. You can choose to take a break here or return to Buckfastleigh on the same train.
For February Half Term, Staverton provides the interchange for passengers travelling onwards to Totnes Town on our vintage bus. Spaces on the bus are limited to 'Totnes Town Explorer' ticket holders only.
Our Station at Totnes Riverside and the Totnes Rare Breeds Farm are currently closed.
Our vintage bus will call at Totnes Mainline Station Approach (Stops A and C) before terminating at the Royal Seven Stars (Stop E), at the bottom of Totnes' characteristic Fore Street. Here you can explore the fabulous selection of independent shops and even Totnes Castle (weekends only).