Description
Cave Cinema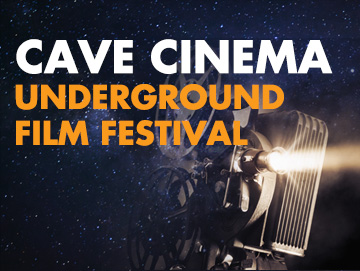 Our pop-up underground cinema offers a unique experience like no other! Sit back, relax, and watch a movie in a deckchair in Britains Oldest Home! It's been home to Neanderthals and Ice Age animals including woolly mammoths, bears & lions. You'll be immersed in this incredible environment as you're entertained…Plus we have a Cave Bar!!!Important information:
FILMS WEEK 1- TUESDAY 26TH JULY – FRIDAY 29TH JULY
THE GOONIES (12)
Tuesday 26th July  6.30pm
From the imagination of Steven Spielberg, The Goonies plunges a band of small heroes into a swashbuckling, surprise-around-every-corner quest beyond their wildest dreams! Following a mysterious treasure map into a spectacular underground realm of twisting passages, outrageous booby-traps and a long-lost pirate ship full of golden doubloons, the kids race to stay one step ahead of a family of bumbling bad guys… and a mild-mannered monster with a face only a mother could love. A family adventure classic from start to buccaneering finish, is a cinematic treasure trove of breathtaking action, dazzling effects and shiver-yer-timbers thrills!
THE DESCENT (18)
Tuesday 26th July 9pm
British horror film The Descent follows six women on a caving expedition which goes terrifyingly wrong. Watch this critically acclaimed thriller an underground world of the cave cinema. Are you brave enough?
GREASE (PG)
Wednesday 27th July 6.30pm
From the long running hit Broadway show comes one of the most popular screen musicals of all time. 70's pop icons John Travolta and Olivia Newton-John join some of Hollywood's oldtime favorite personalities in this valentine to the 1950's. Things are really hoppin' at Rydell High when Danny (Travolta) discovers the object of his "Summer Lovin'" fling Sandy (Newton-John) has moved to town and enrolled in his school. Rama-Lama Ding-Dong!
HARRY POTTER AND THE CHAMBER OF SECRETS (PG)
Wednesday 27th July 9pm
A house-elf warns Harry against returning to Hogwarts, but he decides to ignore it. When students and creatures at the school begin to get petrified, Harry finds himself surrounded in mystery.
REIGN OF FIRE (12)
Thursday 28th July 6.30pm
In present-day London, twelve-year-old Quinn watches as his mother, a construction engineer, inadvertently wake an enormous fire-breathing dragon from its centuries-long slumber. Twenty years later, much of the world has been scarred by the beast and its offspring. As a fire chief, Quinn is responsible for warding off the dragons and keeping a small community alive as they struggle to maintain a meager existence. Then along comes hotshot American, Van Zan, who says he has a way to kill the dragons and save mankind–a way Quinn's never seen done.
STAR IS BORN (15)
Thursday 28th July 9pm
Cooper plays seasoned musician Jackson Maine, who discovers – and falls in love with – struggling artist Ally (Lady Gaga). She has just about given up on her dream to make it big as a singer… until Jack coaxes her into the spotlight.
THE GREATEST SHOWMAN (PG)
Friday 29th July 6.30pm
'The Greatest Showman' is a bold and original musical that celebrates the birth of show business and the sense of wonder we feel when dreams come to life.
BOHEMIAN RHAPSODY (15)
Friday 29th July 9pm
'Bohemian Rhapsody' is a foot-stomping celebration of Queen, their music and their extraordinary lead singer Freddie Mercury, who defied stereotypes and shattered convention to become one of the most beloved entertainers on the planet.
BOOKING INFORMATION
Prices £12.50 per person
Booking Booking essential
Times Please see individual film
Age Restriction Please see individual film
Important information:
Tickets are for entry to the cinema only. All films will start promptly so please allow plenty of time to arrive and choose your seats. Seating is provided (weight restriction of 17 stone; for more information please call). The caves are a constant temperature of 14c. We recommend sensible footwear and dress up warm – visitors are welcome to bring blankets. Under 16's must be accompanied by a full paying adult.
Please note: only food and drink purchased from Firestone Kitchen and our cave bar will be allowed into the cinema. We have a strict no litter policy in the caves for conservation purposes.
Accessibility: The Cave Cinema is located in one of our most accessible cave chambers. Please note there is a slope, which all visitors will need to walk down. Otherwise accessing the cinema is relatively easy. We regret that we are unable to allow mobility scooters into the cinema. We ask that wheelchair users wanting to access the cinema call the caves on 01803 215 136 so arrangements can be made.