A High-Quality Devon Day Out Experience
Devon's Top Attractions is brought to you by the Devon Association of Tourist Attractions which represents the very best quality assured visitor attractions in Devon.
Things to do in Devon
We understand it can be hard to find a UK holiday destination that ticks all the right boxes in providing enough things to do and places to visit, not only to keep the children entertained, but giving parents a well-earned relaxing time too. Devon is the third largest county in England and is blessed with a mixture of natural beauty, masses of outdoor open space and many interesting and varied days out to please all ages and tastes. Days out and things to do in Devon include thrilling award-winning theme parks, adrenaline-packed outdoor activity adventures, historic castles, botanical gardens and boat cruises. There are award winning steam railways, impressive stately homes, narrow gauge trams, farm adventure parks, zoos, museums, and indoor play centres. All this choice guarantees fun-packed family times giving perfect days out for all.
Days Out in Devon at Devon's Top Attractions
You will find Devon's Top Attractions spread throughout the entire county of Devon, all our member attractions must pass rigorous entry criteria and are regularly inspected to ensure they maintain our fantastic high standards and offer the very best days out in Devon at our top Devon visitor attractions.
We are proud to have a diverse membership of attractions to ensure that whatever day out you are looking for, we have something for you. Be it theme parks or farm parks, boats, caves, trains or trams, museums, heritage, galleries or National Trust, if you see our logo you know you can expect a high-quality experience at one of Devon's Top Attractions!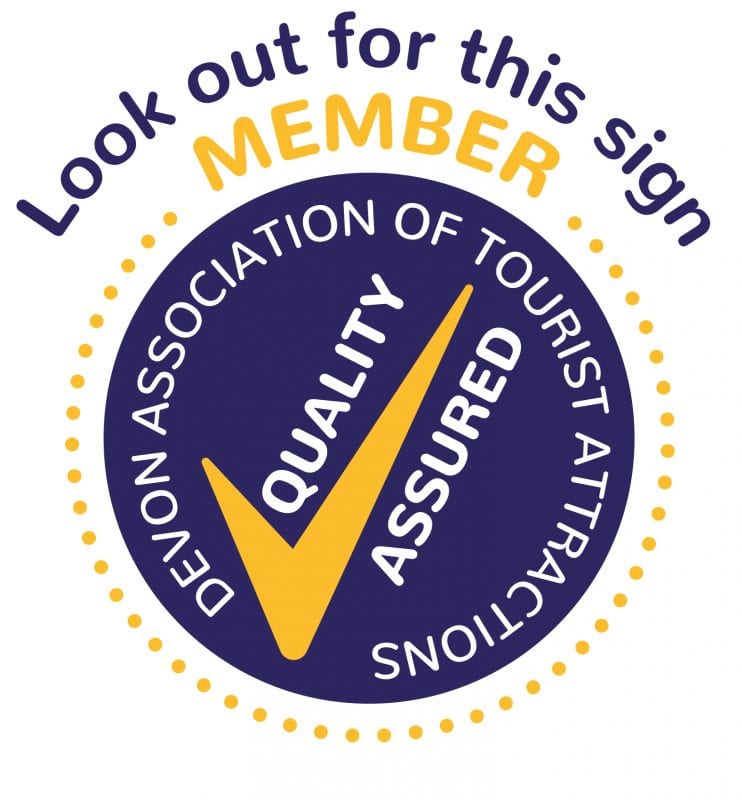 View Our Devon Guide here
Why Holiday in Devon?
Why choose Devon for your holiday? Well there's countless reasons! Choose the rolling hills of Devon as the backdrop to your holiday and you will find beautiful scenery, exquisite landscapes, fabulous food, national parks, miles of wonderful sandy beaches and award-winning top-quality visitor attractions.  Devon, unquestionably, has it all.
There are a fantastic range of activities and things to do in Devon to keep the whole family entertained. Explore the county and you will discover some of the UK's top visitor attractions.  From outdoor pursuits to cuddling miniature pigs, Devon's top visitor attractions offer a wide range of quality inspected and approved all-weather attractions located right across the county.
What's on in Devon?
Devon is buzzing with life and adventure all year round with the top attractions in Devon putting on a huge calendar of events. These include not only the many seasonal events like those at Easter, Halloween and Christmas, but also all sorts of other exhibitions, shows, fairs and hundreds of special themed events all year round. Thomas the Tank Engine to Food Festivals, firework championships to music festivals ……there's something for everyone. Some of these top Devon events are recognised and listed as some of the very best events in the UK and you can find some of them on this link here
Where should I stay?
When it comes to choosing somewhere to stay, Devon has a fantastic reputation for offering a rich variety of accommodation to suit everyone's needs.  There's simple camping in the glorious countryside to luxury houses overlooking the sea, five-star hotels to budget B&B's, holiday homes and lodges…. with some including your very own decking and hot tub! Devon offers accommodation to fit everyone's holiday style and budget.
Devon has long been a magnet for campers, caravan and motorhome owners  and some of the Devon's Top Attractions have their very own caravan and camping facilities which enables you to have a 'stay and play' adventure. Allowing you to pitch up to enjoy your Devon family holiday right on site at the visitor attractions themselves. Three Devon attractions offering this are Crealy Theme Park and Resort, Woodlands Family Theme Park and River Dart Country Park.
Devon food and drink
Devon is well known for its superb food and drink and has won many accolades for its excellent local Devon made produce. Four of its fine restaurants have been awarded Michelin stars and you can find the UK's best chippy in Exmouth, Krispies, who were awarded the 2019 Best Fish and Chip Shop at the National Fsh and Chip Awards 2020. A visit to Devon isn't complete without taking time out to enjoy a delicious 'Devon Cream Tea' but remember to take it the Devon way with the cream first and jam on top.
Dog-friendly Devon
With nearly 10 million dog owners in the UK our four-legged friends are a high priority when it comes to choosing the right holiday destination. Luckily Devon is renowned for being dog friendly and caters well on all levels to make sure our faithful friends enjoy the holiday as much as we do. Devon has a wide variety of dog-friendly accommodation on offer whilst pubs and cafes cater well for our pet pooch. Some restaurants even have specific dog friendly areas. Devon's beaches have dog-friendly areas and, if you're visiting out of season, you'll find most beaches are dog-friendly from September to March. A full list of Devon dog friendly beaches can be found here
Devon dog-friendly days out are offered by many of Devon's Top Attractions and you can take man's best friend onboard a boat cruise, a steam train, a narrow gauge tram and visit a variety of gardens and natural attractions. A full list of the Devon dog-friendly attractions can be viewed on this link.
Devon's top days out look forward to welcoming you through their doors.
Check out our family attractions in Devon here