Description
Step back into 1897 for a Victorian Christmas at Bygones, Torquay.
See the 12-foot Christmas tree and special lighting and decorations and take part in the special festive hunt.
Father Christmas will be arriving on the 15th December 11am-2pm on the Bygones Express!.
Visit him a week early in his grotto.
(he's checking out everything is in order in advance of the big day!) for a small charge of  £ 3.50 (present price approx. £ 6 RRP, standard entry prices apply)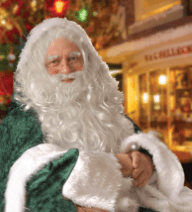 Plus, there are a few special dates where you can take breakfast or lunch with him.
PLUS DON'T MISS… BOOKINGS NOW OPEN!
Father Christmas Special Event (pre-booking essential).
Breakfast & Lunch with Santa
Sunday 22nd December lunch at 11.45
Monday 23rd breakfast at 10, lunch at 12.30
Tuesday 24th breakfast at 10, lunch at 12.30
Adults & Children £12 per head
This includes entry to Bygones, your breakfast or lunch! (Continental breakfast and a selection of light bites sweet and savoury for lunch). And a present from Santa himself (worth approx £6+).
Under 3's are free- present from Santa for little ones will be a small extra charge.
Pre-booking essential!! Call us on 01803 326108 or email [email protected]