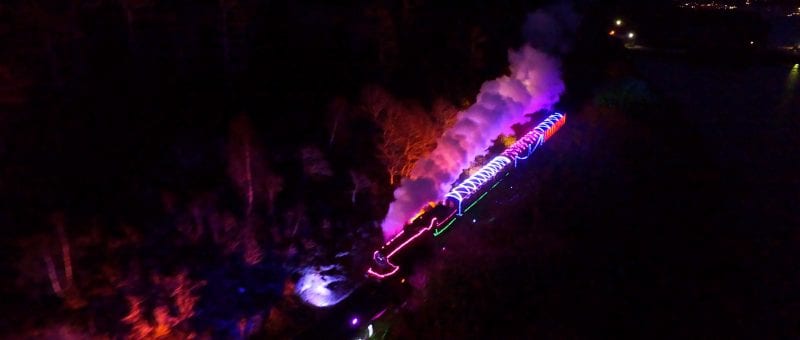 For the first time in the UK, possibly the world, Dartmouth Stream Railway is staging a Christmas light show which combines a steam train decorated in 100,000 lights with fantastic lineside displays – through a tunnel, over viaducts and through an ancient oak forest. This nocturnal illuminated extravaganza is the product of 12 months planning and drew its inspiration from the Christmas Coca Cola truck and other illuminated estates and gardens – for example Kew Gardens. As well as lighting the stations, the beautiful forests and breath-taking scenery in a blaze of Christmas-themed light, there will also be lots of magical illuminated surprises along the route. The team shot the taster video back in March whilst dodging the snow drifts. The promotional video for the Christmas Train of Lights was shot on location with only the locomotive and three coaches dressed and a taster lineside display. The actual experience includes up to ten coaches and thousands of lights illuminating the forest.
This unique trip has to be experienced to be believed. The effect created by mixing live steam from the locomotive with the thousands of multicoloured lights decorating the vintage coaches is a sight to behold – no photograph will do it justice. To complete the assault on your senses the entire experience is choreographed to music!
The Train of Lights runs on selected dates 1st December through to 31st December. See website for details www.dsrrbchristmas.co.uk or call on 01803 555872.