Brand new for the Christmas season in December this year, the award-winning South Devon Railway (SDR) will be welcoming 'Polar Express' ™ trains to the seven-mile heritage steam line.
Held in partnership with UK-based PNP Events Ltd — who describe 'The Polar Express' ™ experience as a "memory-making marvel" at Christmas — the SDR is both pleased and proud to present 'The Polar Express' ™ this year.
'The Polar Express' ™experience is based upon the story and characters from the 1985 popular Chris Van Allsburg children's book and subsequent block-buster film, both of which are now widely considered to be one of the classic Christmas stories for young children.
'Polar Express' ™ tickets are now on sale, so people wishing to register an interest in travelling on the special trains this year at the SDR are advised to do so immediately at the following website to avoid disappointment: https://southdevonrailwaythepolarexpressride.com/
The SDR is conveniently located at Buckfastleigh, just half an hour from Plymouth, Torbay and Exeter, and right by the A38 Devon Expressway.
Families of all ages will be able to cast off the Covid 19 blues and hop aboard the awe-inspiring steam train and begin the journey of a lifetime with a Christmas experience to top all others.
Once on board, the Polar Express's ™ amazing team of chefs will serve up the richest hot chocolate and tastiest cookies of the year, whilst singing and dancing all the while.
And, just as in the original book, the train's 'Conductor' will stamp everyone's tickets creating a shower of smiles for all, plus a shower of ticket clippings all over people's tables too.
And then, just as everyone thinks they couldn't possibly be happier, the beautiful steam-powered train will come to a halt at the end of the line – but it's not a dream as the train has made it to the North Pole!
Then, for the most memorable part of the 'Polar Express' ™ experience, Santa Claus himself comes on board the Polar Express to meet everyone! The sound of bells rings around the carriage as children's eyes dance around and grow ever wider, and they believe….
And so do parents too! Santa greets everyone personally and gives them their first gift of Christmas, a beautiful, small silver bell. And everyone aboard is advised to check for holes in their pockets before leaving just in case they might have lost anything valuable like a bell!
As the train conductor says in both the book and film: "Well, you comin'?"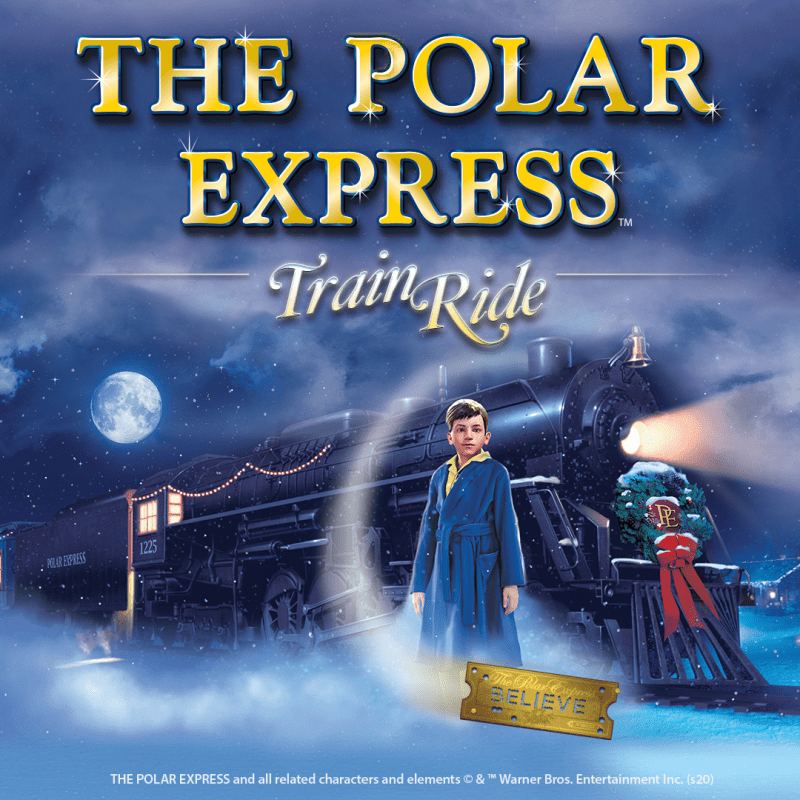 Book your tickets here