Find over 20 Activities and Top Things to do in Devon this Easter!
Easter in Devon is going to be 'Cracking'! Spring has sprung and Devon's Top Attractions are egg-cited to be offering a 24 'carrot' experience over the Easter school holidays.
Every bunny is going to have a cracking time and the top attractions have really thought outside the basket this year to deliver some Egg-ceptional Easter magic and special Easter themed surprises.
Look out for the non-stop family fun and cracking Easter events on offer. There'll be something for everyone, from baskets to bunnies and chicks to chocolate, there is no 'eggs-cuse' not to join in Devon's 'egg-stra' special Easter celebrations.
Easter is the only time when it makes sense to put all your eggs in one basket and head for Devon's Top Attractions for a great family day out and some good old family fun!
Eggs-tra special things to do in South Devon this Easter
Easter Egg Trail – Canonteign Falls, Chudleigh, South Devon.
If you are looking for discovery and adventure then head to Canonteign Falls.  New for this season is the spectacular paved labyrinth for children to explore with play and fairy trails in the ferns as well as a special Easter egg trail. Discover the highest waterfall in the Southwest, walk around the lakes, enjoy the adventure playground and lakeside café, complete with new menu. There is fun and discovery for all the family, celebrate Easter with them and have a day out to remember!
Easter Egglow – Kents Cavern, Torquay.
Delve into adventure underground at Kents Cavern,  where all tours during the holidays include the Easter Egglow! What's that glowing in the cave? Is it a torch? Is it a lantern? No, it's an Egg but how many can you find hiding?  A brand-new event for 2022, let your guide lead you through the cave and help you discover the glowing eggs and you might earn yourself a seasonal treat. Go outside the cave and there's still lots to eggs-plore and all activities are included in the ticket!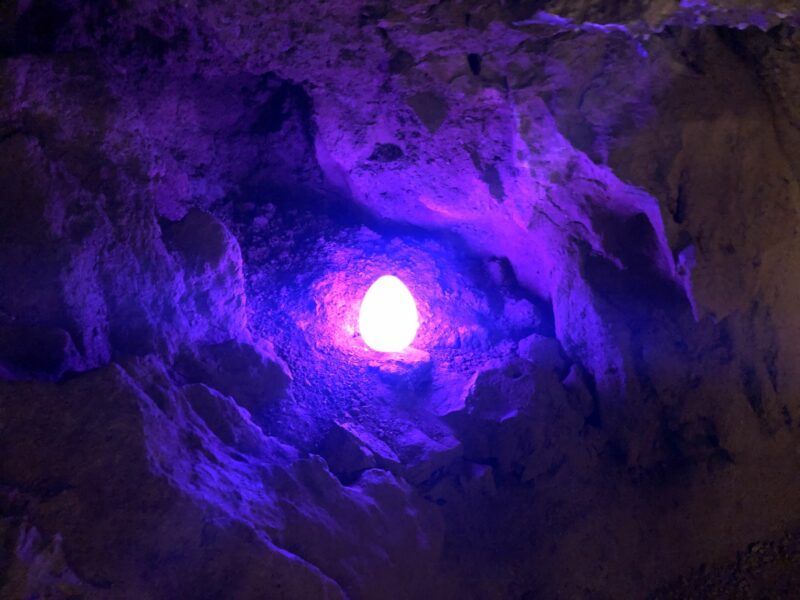 Egg-stravaganza Day Out – Pennywell Farm, Buckfastleigh, South Devon.
For baskets full of fun hop over to Pennywell for an Egg-stravaganza day out, chock-a-block with activities for all ages. Follow the clues, spot the eggs and bunnies around the farm. At the end of the trail, you will discover something very special, the Easter Bunny's holiday home! She always sets up camp at Pennywell over Easter and this year you can actually get to meet her in person! After you meet the Big Bunny, don't forget to enjoy all the rides and see all the egg-dorable new-born baby animals and the famous miniature Pennywell piglets. Piggy and bunny cuddles are a must on this visit plus don't forget to hop over to see the NEW giant rabbits who can't wait to meet you!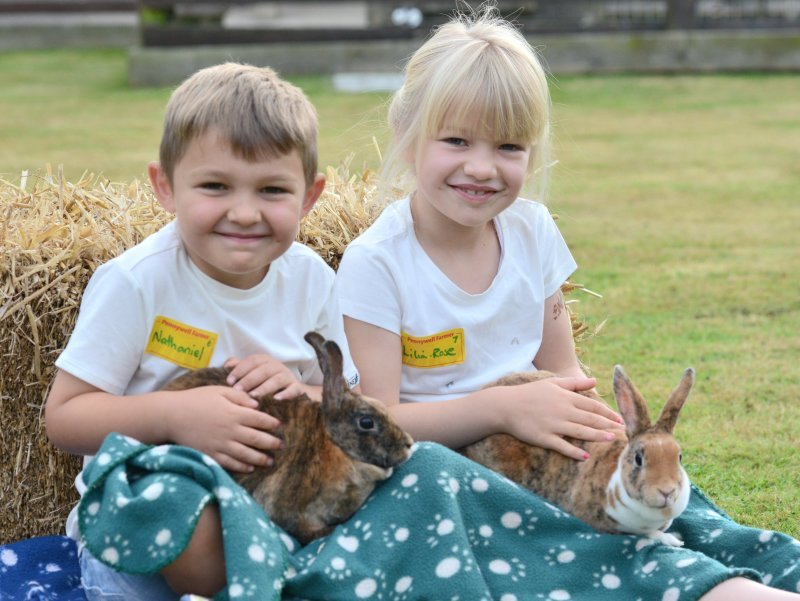 Day Out with Thomas – South Devon Railway, Buckfastleigh South Devon.
Peep, Peep, all aboard for a day out of big adventure at South Devon Railway and their Day Out with Thomas (15-18th April) when everyone's favourite little blue engine is back. Take a train ride with Thomas, meet Sir Topham Hatt and join Sodor Station Sweepers Rusty and Dusty for a trainload of excitement. There's lots to enjoy all day including the magic show, singalongs and performances from Rusty and Dusty, ride on the miniature Railway, meet Diesel and take part in the Thomas Nature Trail, plus every child receives Thomas and Friends giveaways.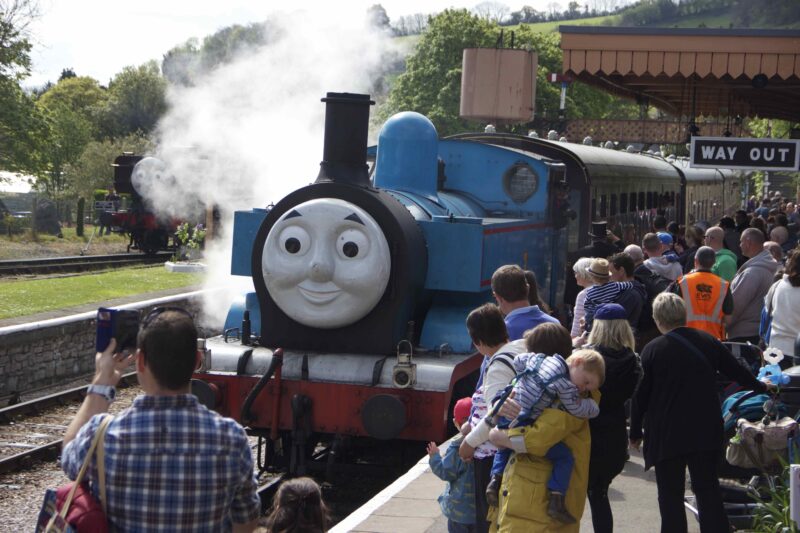 Easter Egg Trail – Babbacombe Model Village, Torquay.
Feel like a giant and crack the Easter Egg Trail at Babbacombe Model Village. Hop over there to see if you can find all of their colourful eggs hidden in and around the gardens. All successful young explorers will enjoy a chocolate treat. Plus, don't miss their NEW 9-hole crazy golf course which is sure to add even more family fun to your day out and is included in the admission ticket.
Easter Bunny Grotto – Woodlands Family Theme Park, Totnes, South Devon
Get ready for an Egg-streme Easter at Woodlands Family Theme Park and a visit to the Easter Bunny Grotto. Travel through a land of chocolate heaven, take in the stunning views and see the magic world of Easter unfold. Meet the Easter Bunny and collect your special gift. Experience an eggstra- special egg-counter with the one and only Easter Bunny, the fun-loving Chairman of Chocolate! Woodlands also have special events and character visits on selected days over the Easter holidays, see Peppa Pig, Peter Rabbit, Titan the Robot and Fizz Pop Science. Plus, enjoy all the other rides and animals at the 90-acre park.
Easter themed challenge – Becky Falls, Manaton, Dartmoor.
Celebrate Easter in Devon with a day out at Becky Falls. They have an Easter themed challenge where you can help Pixie Oakley and win-a-go on their chocolate tombola, a prize every time! While there, embrace the great outdoors and explore the 50-acre site of stunning woodlands and breath-taking waterfalls. Check out the animal collection and Zoo and enjoy the meet the keeper sessions and family activities. It's a great day out idea for Easter!
Superworm and friends – Haldon Forest Park, Kennford, Exeter.
Head for Haldon Forest Park for a spot of 'Superworm and friends' fun on the 2022 new adventure trail. Discover the small but mighty creatures in the much-loved story and learn about the everyday heroic feats of minibeasts in the forest. The new self-led trail features brightly illustrated panels and a trail packed full of fun activities, including your very own mask. Set off with Superworm and become a forest SUPERHERO!
River Dart Country Park, Ashburton, South Devon.
Head to River Dart Country Park to explore the 90 acres of parkland. The park is packed full of adventure and activities that are just right for families who like to be active and enjoy the great outdoors. Let the children's imagination run wild with excitement for the whole family around every corner.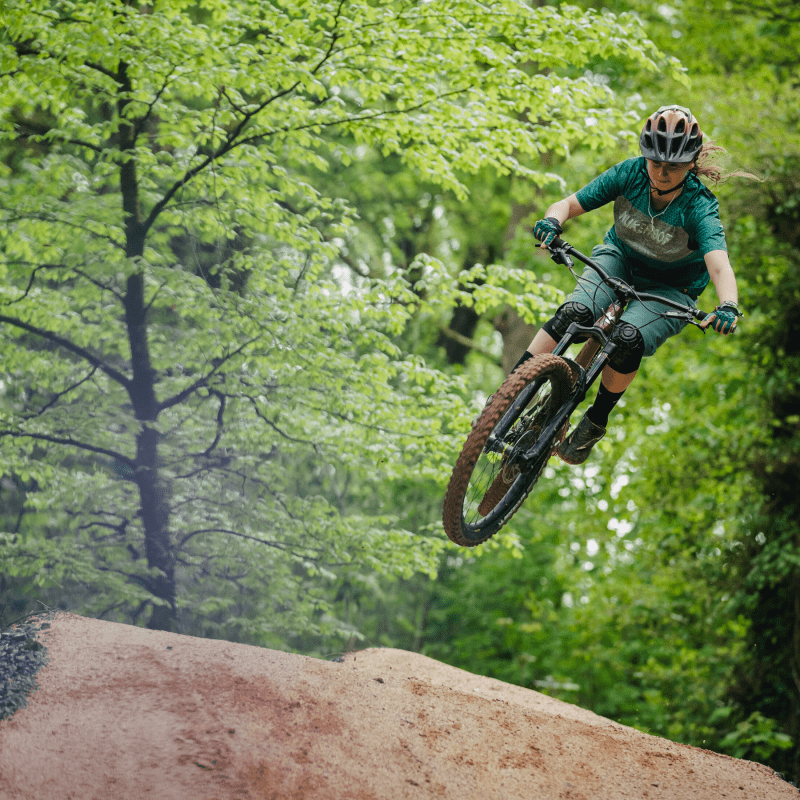 Egg Hunt – Bygones, Torquay, South Devon.
Be an egg-spert in egg hunting and head to Bygones in Torquay to step back in time on their egg hunt. Find the hidden eggs across the bottom two floors, if you find them all you can claim your own! While there you can see, smell and hear the bustle of Bygones life-size Victorian street and explore the 15 shops and 9 period rooms packed of authentic displays. Grab a snack in their café and it's dog friendly too!
Blackpool Sands, Dartmouth, South Devon.
Enjoy the great outdoors and a breath of Blackpool Sands air. A day out at this award-winning Devon beach comes complete with breath-taking scenery. Take the family to discover one of Devon's most beautiful natural treasures.

Egg-citing things to do in East Devon this Easter
There's an egg-normous amount of fun on offer at Crealy this Easter. Join them for their Eggo-Saurus Dino Hunt on your very own Jurassic Adventure across the theme park. Set out to find all the dinosaur egg locations and win yourself an egg-ceptional chocolatey prize. Sink your teeth into the quest as you try to figure out the clues and riddles that will reveal the secret Dino egg locations. Use your very own prehistoric map to tick off all the locations you've found and once you've found them all, claim your reward. Plus, enjoy your favourite rides back open for the season including Twister, Aqua Blasters and Vortex. A full day out for all the family.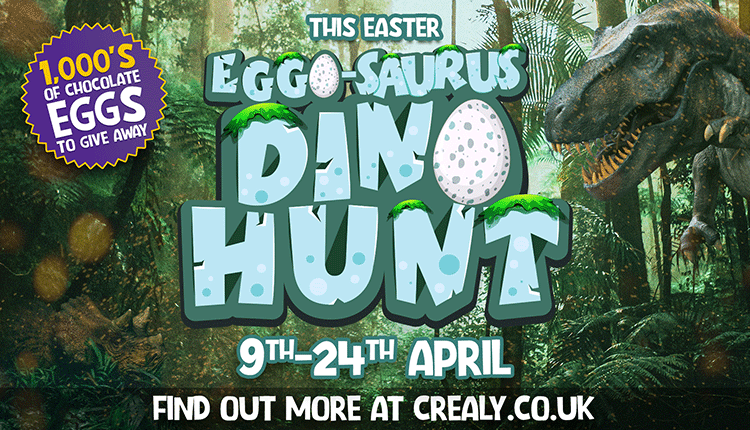 World of Country Life, Exmouth, East Devon.
There's fun for everyone at the World of Country Life over the Easter holidays. With a full programme of daily activities, walk a goat, bottle feed a lamb, handfeed the red deer and llama and watch the Hawkridge Birds of Prey flying display.  Why not cheer on your favourite ferret at the ferret racing or cuddle a rabbit at the animal handling? Plus, over the Easter weekend there are some special arts and craft sessions and an egg trail!
Easter Nature Trail – Donkey Sanctuary, Sidmouth.
Head for the Donkey Sanctuary and take part in the Easter Nature Trail. Spot the wildlife along the way to claim an Easter treat. Follow the trail around the sanctuary and discover what animals you can find living in the various habitats and nature ecosystems. This Easter activity combines family fun, exercise and brainpower. It includes an Easter egg on completion and a biodegradable bag of seeds to help you create your own wildflower meadow at home. Good practice and good for the environment.
Fairy Specials and Pirate Trams  – Seaton Tramway, Seaton, East Devon.
Take a tram ride this Easter and travel back in time to a golden age of travel with Seaton Tramway – it's electric!!! On selected dates they have their popular Fairy Specials running where you can embark on a magical adventure to the Fairy Kingdom.  An enchanted tram ride filled with music and stories of faraway lands. For the braver….. why not take the Pirate Tram? Set sail on the Seaton Pearl with Captain Nick on a fun-filled family adventure, full of swashbuckling fun and pirate talk which by the end will get everyone walking, talking and looking like a pirate and all children receive some 'booty' too!
Mad Hatters and March Hares – Coldharbour Mill,

Uffculme, Cullompton
Its Mad Hatters and March Hares all thrown in at Coldharbour Mill this Easter. Head there on the 18th April for a great day out for the whole family. Enjoy the Mad Hatters Craft tea party and an egg-cellent Egg Hunt and see the 19th Century engines and boiler all fired up in full steam.  Hunt for eggs which have been cleverly hidden by their resident March Hare! Some might be hiding on the factory floor or outdoors over at the Mill Pond or at the wildlife meadow, you will need a keen eye as the March Hare wants to keep them all for himself.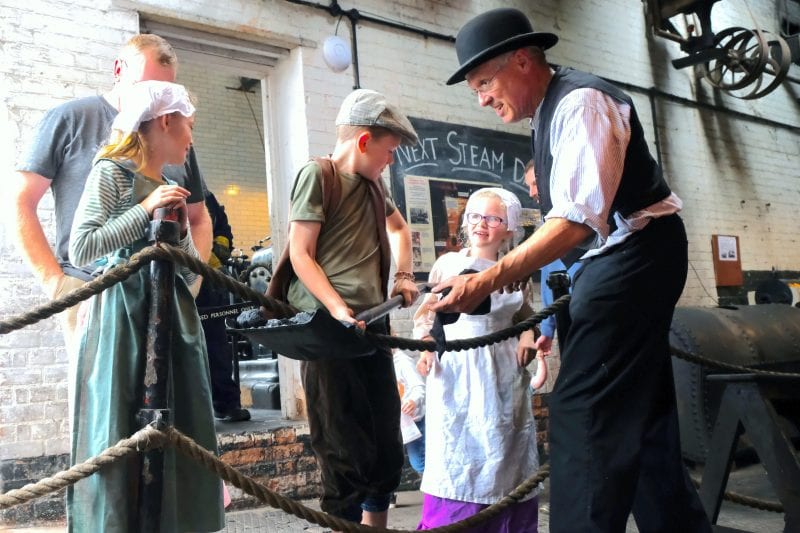 Egg-cellent Easter activities to do in North Devon
Giant Egg Hunt – RHS Rosemoor – Torrington.
Head to RHS RHS Rosemoor for a supersized family adventure and go exploring on a Giant Egg Hunt. There are dozens of larger-than-life hand painted eggs which await discovery on this family friendly day out. Explorers of all ages can follow clues and solve puzzles to complete the trail. Every child who successfully finds all the hidden eggs will be rewarded with a free chocolate treat to take home. On selected days there's a chance to meet the Easter Bunny for fun and games! Plus, the outdoor cinema experience comes indoors to Rosemoor on 16th April for a screening of Peter Rabbit 2. The Garden Room, will be transformed into a magical woodland setting complete with hay bales and deckchairs and you can bring along picnic blankets. Snacks and drinks will be available too!
Easter Grotto – Milky Way Adventure Park – Bideford.
Journey down a rabbit hole at Milky Way Adventure Park to the NEW expanded Easter Bunny HQ – Easter Grotto and meet the friendly 'Eggsperts' who control the production of the entire world's chocolate eggs. Enter their crazy world, solve puzzles, make music, and check out the clever egg-production process. Then meet the Easter Bunny himself and receive a chocolate treat. Plus, visitors can enjoy all the usual rides and activities on their visit at this all-weather North Devon attraction.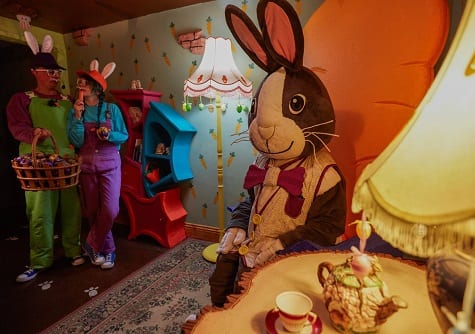 Duck Hunt – Big Sheep Farm and Theme Park – Bideford.
There's plenty of cracking fun on the farm this Easter at the Big Sheep Farm and Theme Park where some bunny loves 'ewe'. Head there and go on a duck hunt. Find the hidden ducks around the farm and win prizes. Ewe'll love the egg-cellent rides, activities and farm fun. Ride the Rampage Rollercoaster, the Twister, Train, Honeypot and Swing Boats. The kids can let off steam in the huge indoor play area. Feed the hungry lambs in the barn and you will be 'cracked' up at the hilarious Sheep and Shearing show.  Plus don't forget to take part in the egg-citement of the famous sheep racing.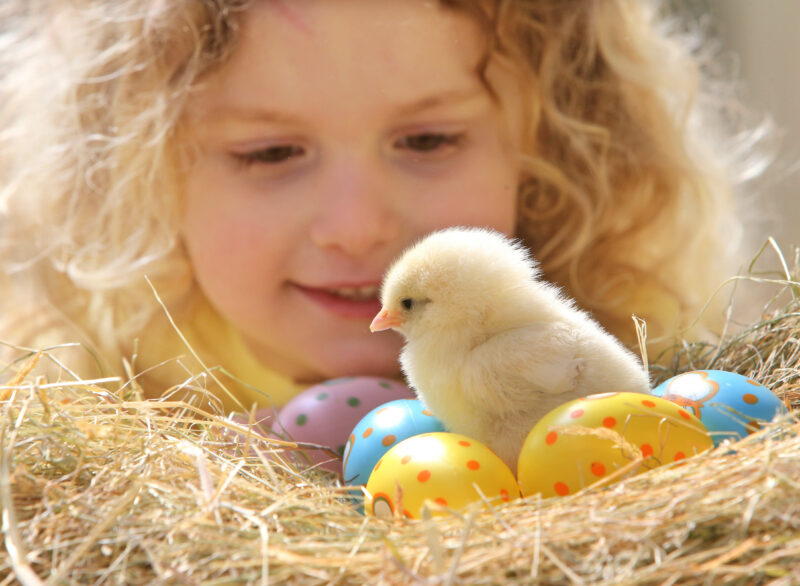 Easter Chicks – Clovelly Village, Bideford, North Devon
Find the Easter Chicks at Clovelly Village to take part in this popular treasure hunt. Children receive a village map to mark the location of several Easter chicks perched up and down the cobbled high street to the quay. If they spot at least 10 chicks, return the map and win an Easter egg, win a bigger prize if you spot all 15. Great fun and super way to enjoy Clovelly Village!
Anne Blackham Marketing Manager for Devon's Top Attractions said: "Having spent the last two Easters in lockdown, Easter in Devon this year is destined to be a 'cracking' one. The attractions have been working round the clock to bring together a great selection of Easter-themed days out and Spring inspired activities. There will be baskets of fun on offer, plus all the newborn arrivals and some eggs-treme fun too all waiting to be enjoyed.  Easter is here and the attractions want to share this magic with everyone."
To find out more details and information about what's on this Easter in Devon you can hop over and find them on our Easter Events page