How about a Stuart Line Cruises – Guided bird watching cruise?
Find out how four friends enjoyed this popular Exmouth boat trip, Devon day out?
There are lots of great things to do in Exmouth in East Devon and we think this is one of them. We managed to sail with Stuart Line Cruises on one of their last 'Guided Bird Watching Cruises' of the season at the beginning of March just before the country went into 'lockdown'.  It was to be our last day out before we all had to stay home but we didn't know it at the time and so it makes this Devon day trip even more poignant. We were a group of four, three of whom are keen bird watchers and one a complete novice (me). Two live in Devon, the other two had travelled from Staffordshire for the weekend specifically to go on the trip, so we were hoping for some good weather, or at least dry.
The rain was holding off as we headed for Exmouth Marina and luckily for us, it held off for the entire duration of the cruise.  We were all parked up and ready to climb on board for the 10.45am sailing.  As soon as we set foot on-board it was evident to see why this Exmouth based family run business consistently gets 5-star TripAdvisor reviews and why it's a multi award winning top Devon attraction. The cruise was an absolute joy, the staff helpful and friendly and every attention to detail all taken care of. There was even free use of extra pairs of binoculars for those that hadn't got a pair, and blankets handed around to keep the chill out for those on the open upper deck.
The expert commentary came from local leading ornithologist Dave Smallshire who was excellent and extremely knowledgeable. Soon even our trainee birdwatcher was hooked. The cruise is suitable for beginners and also beneficial to experts and so there was a real mix of abilities on the day we set sail.  On this three-hour idyllic cruise, we ended up seeing over 20 different species of birds which was an absolute dream. Apparently, even more species can be spotted earlier in the year when the area is even more of a migration hot spot for the thousands of migrating birds drawn to the Exe Estuary and this East Devon coast location.  With the helpful and expert guidance of Dave Smallshire, directing us using a simple clock face, everyone was able to quickly and effortlessly point their binoculars in the right direction and focus in on the given bird which, in this case, was a little grebe. Followed by a quick look towards 3 o'clock to see an Egret and at 6 o'clock to see a Knot.  We were overwhelmed by the abundance of bird life we could see on this unique moving bird hide on water. Just to name a few we saw some cormorants, shags, oyster-catchers, a grey heron, turnstones, a spoonbill, some great black backed gulls, common gulls and avocets. It really was a bird watchers paradise.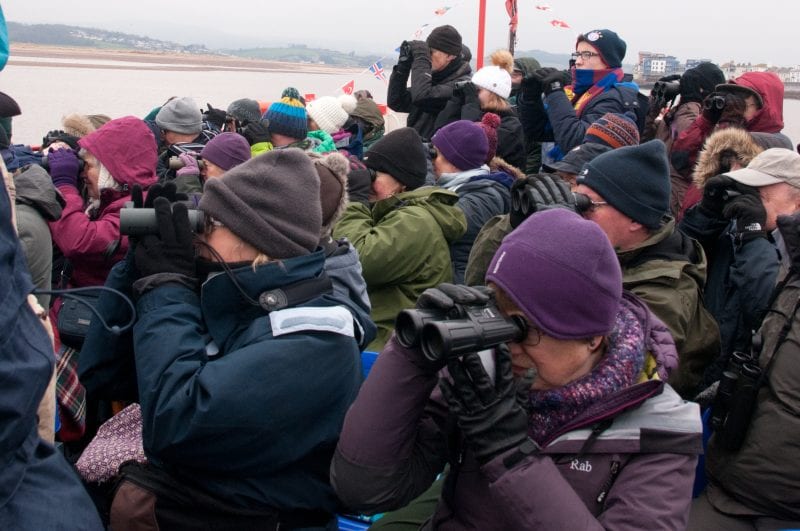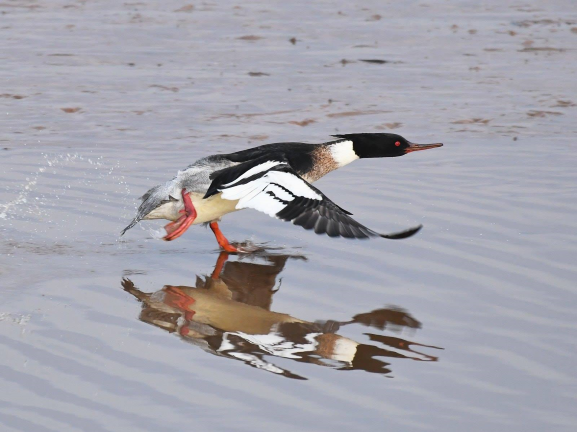 The cruise took us along the calm waters of the Exe Estuary which in itself even without the bird life is absolutely beautiful. The scenic picturesque estuary is an utter delight and will see us return in the Summer for one of their 'Cream Tea River Cruises' or one of their Friday night 'Fish and Fizz' evening cruises.
There was time too on our epic adventure to go to the lower deck and see what the well-stocked bar was serving for lunch. We all had hot drinks and an obligatory Devon-made 'Chunk of Devon' delicious hot steak pasty but we could have had a vegetarian alternative or a mug of tasty organic soup. We took our lunches back onto the upper deck where we enjoyed another dose of the fabulous scenery and tried to catch a glimpse of another species not yet ticked off our list.
The guided bird watching cruises sail on selected dates from November to March and are great value, priced at just £12.50 per adult for a three hour cruise and further reductions for groups of more than 15. More details can be found on their website www.stuartlinecruises.co.uk
I can see why these Stuart Line Cruises – guided bird watching cruises always sell out, three hours of action-packed wildlife experience with all the trimmings. Well done Stuart Line Cruises, a winning East Devon day out for sure!
Link to RSPB website