Stagecoach
Description
Stagecoach, much more than just your local bus company!
You probably know Stagecoach as the local bus company in Devon area but, fun fact, they are one of the largest bus operators in the UK. Since 1980, they run express and local bus services across the country and continue to play an important role in helping people access work, education, health, shopping and leisure.
The parent company is Stagecoach Group, who also looks after megabus.com, the intercity coach company that connects communities across longer distances.
Stagecoach are hugely proud to be many things to many people. You can use the Stagecoach in many way, to  just pop into town on one of their local services or if you are heading off on holiday? Stagecoach will get your journey off to a great start on one of their airport services.
Stagecoach have achieved so much in the last 40 years and are proud of their go-getting spirit.
Stagecoach buses connect Devon's Top Attractions. For great value days out download the Stagecoach app to plan your journey – Great Value group tickets available, Unlimited travel for up to 5 people travelling together.

Open Top Bus Sightseeing Tours in Devon
Are you a Devon local looking for a great family day out? Or maybe you've chosen Devon as your perfect holiday destination and you're looking for a way to take in the tourist attractions?
There is no better way to visit activities and attractions in Devon than by open top bus! Wherever you're staying in the South West give one of our four open top bus experiences a try, it's a great day out for the whole family, and a fun way to explore the many places of interest in the beautiful South West.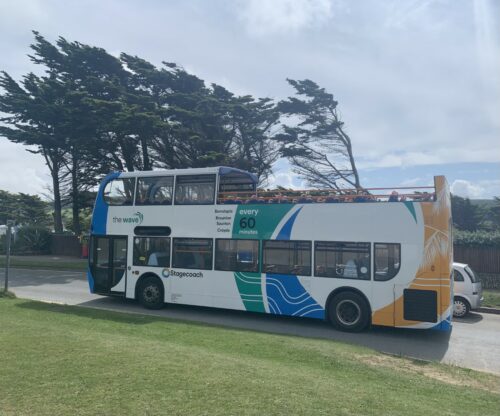 While you stay with us in the South West, or if you're a local searching for days out with the kids there's a huge amount across Devon to keep everyone entertained. Visit the pages below for more information on the open top buses available in your area, we've detailed where the bus goes, and highlighted some fun things to do along the route. Each bus takes in a number of great days out in Devon, so you'll never be short of things to do on your holiday, places to go for a local daytrip or plenty of kids activities to keep the family amused.
With our great value range of day tickets, you can hop on and hop off to visit all of the attractions our routes connect. All of our routes stop at or nearby Devon's popular holiday parks so you can visit the beach or take in other nearby activities.
Open top buses resume in Spring/Summer 2023
Frequently Asked Questions
What do I do if I've lost something on a bus?
Please fill in the form below with the details of your query and a member of the team will be in touch.
https://www.stagecoachbus.com/help-and-contact/forms/lost-property-form