Description
The Wildwood Witch is back!!!
There's some spooky October half term activities goings on at Wildwood Escot.
Once again the Witch of Wildwood will be taking up residence in the Saxon Village.
At periods throughout the day she'll welcome only the bravest souls into her shack to help her cast a spell.
If she proves to be a bit too scary, the team in the village will be around to help you with rune carving, wand making, pumpkin carving and marshmallow toasting on the open fire with tales of how the Saxons and their animals prepared for and survived the harsh winter.
The Village will be open from 10am to 4:30pm – ask staff about times to visit the Witch!
*Some activities will entail a small charge for materials.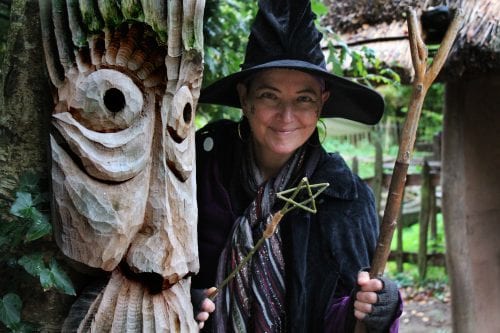 ​Winter Timetable
Daily Timetable*:
The daily feeding/animal talk timetable is on display at the entrance. At all times, please feel free to put your questions to staff.

The ​Play Barn is temporarily closed

The Saxon Village is open 'til 4.30pm
​Please note that times may change at short notice. Please ask on arrival. On weekdays the Saxon Village may be closed to the public for visiting school groups. Please ask before arrival.
More information here