Over 20 ideas for a day out in Devon.
Devon is gearing up for a Mega May Half Term and there are plenty of things to get excited about at Devon's Top Attractions. There are over 40 attractions in Devon to visit, offering fun-packed family days and experiences. Some of the top attractions are putting on new and very special events.  Whether you're visiting Devon or lucky enough to live here, get ready for some great fun at Devon's award-winning attractions this May half term.
Chris Murray, Chairman of the Devon Association of Tourist Attractions, said "Devon continues to offer the whole package to both visitors and locals alike and Devon continues to be a number one holiday hot spot destination and a wonderful place to live. With over 40 of the best days out to choose from and a huge selection of special events planned, the attractions have yet again excelled all expectations in offering visitors a fabulous May half term."
Step back in time and enjoy "Medieval Madness" at Powderham Castle.. See the Knights of Royal England and their jousting display and enjoy the medieval-themed half term activities that children will love. A perfect day out for all the family. Or head to Castle Drogo and follow their Brilliant Butterflies and Magnificent Moths Trail around the garden and grounds. Hunt out the clues to claim your prize.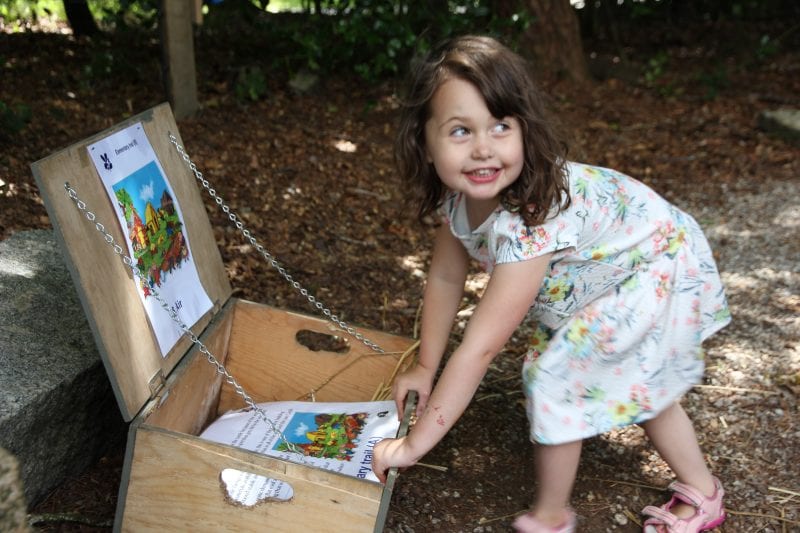 If you're a Roald Dahl fan, then head to Miniature Pony Centre  and meet the characters and join in the fun. If you fancy battling it out against Ms Trunchbull in sports day games or brewing up some of George's Marvellous medicines, then this is the place to spend a day this half term, not forgetting the adorable new foals that you can meet at the Centre. This will be a week of interactive fun for all the family.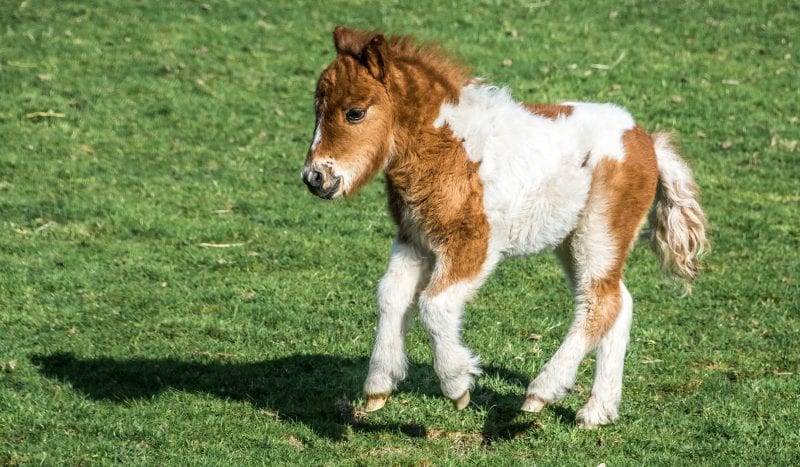 The annual 'Picnic at the Park' is back at River Dart Country Park on Sunday 2nd June, get ready for a whole host of fun activities lined up for all the family. Try out the assault course, Clayzer and Dare Devil activities and enjoy the fun dog show, a full day of family fun but be sure to book your tickets in advance.
Head for Pennywell and enjoy their 'Magical Unicorn Week', full of magical Unicorn fun and bringing out the inner Unicorn in all of us. Meet Magical Merlin, Pennywell's resident Unicorn and take part in the Unicorn treasure hunt. Enjoy the Unicorn craft activities, games and prizes and this is all in addition to Pennywell's famous half hourly activities.  Plus, every child with an online admission ticket gets a FREE Unicorn hot chocolate!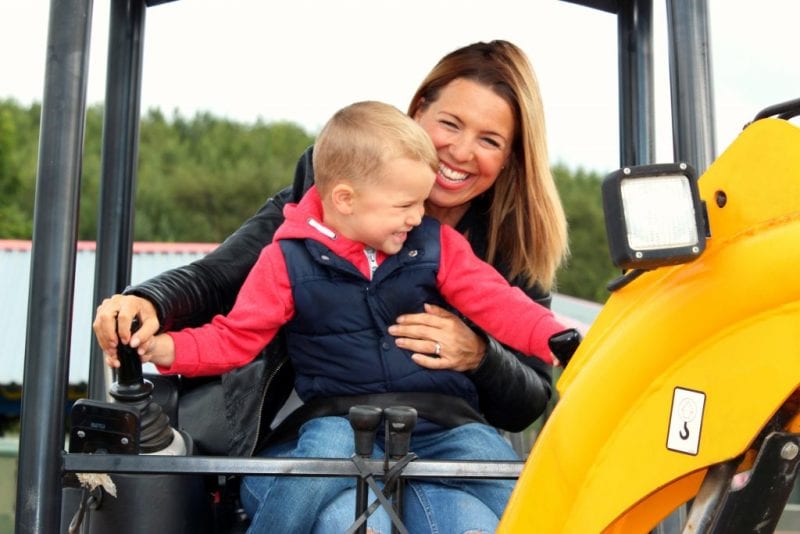 Adrenaline junkies (with a driving licence) can head for Diggerland and have a go at dumper racing, in a real JCB which is great fun to drive and race. There really is nothing quite like roaring around the Diggerland course in one of these specially adapted machines, swerving and sliding through the slaloms against the clock. Take the family and make a day of it.
Crealy is ready and waiting to give families an 'Absolute May-ham', this May Half term. With over 60 attractions and rides to choose from this is really the place to be for the whole family this school holiday. Take a spin on the Twister as you tower above at 12 metres high or make a splash on the Tidal Wave log flume, you're sure to get wet on this one.  It that's not enough, jump on the Aqua blasters and zoom around the lagoon in your own bumper boat and fire your water cannon at anyone in your way.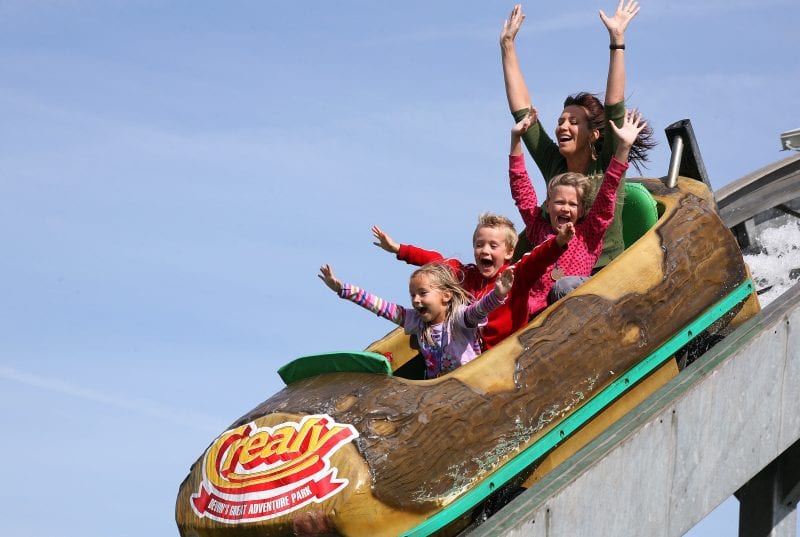 Over at World of Country Life there's loads of swash- bucklin' fun going on with their popular Pirate Week. There'll be pirate themed activities galore and their pirate ship play area will play host to an amazing pirate sword fighting show.  Plus, all the usual daily activities to fill your day with family fun.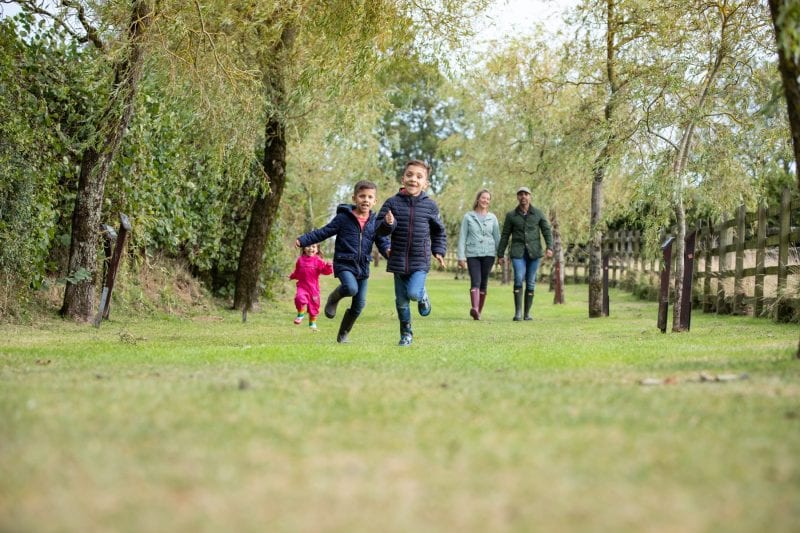 Head for the Donkey Sanctuary on 26th May for their Spring Family Fun Day and Dog Show. Show off your prized pooch and enjoy an action-packed day of good old family fun. The Spring show kicks of the sanctuary's exciting programme of events in their 50th anniversary year. While there, uncover the hidden treasure to claim your gold reward on the Golden Carrot Hunt.
Head to Morwellham Quay over the Bank Holiday weekend and Meet the 'Ragged Victorians' as they hang out interacting with the public. Make a piece of rope, smash rocks to find copper, go to the Victorian school, pan for gold or dress up as a Victorian. There's so much to do, camping is also available so why not make a weekend out of it?
There's a 'Classic and Vintage Vehicle Rally' on at Pecorama on 26th May, which promises an outstanding display of vehicles from the last century and a perfect day out for all those car enthusiasts. There will be special musical guests including Saxminster Saxophone Quartet and the Inline Four Vintage Jazz Band. While there will be family entertainment in the Top Spot Marquee from Ozzy D and Ben the Juggler on the 27th – 30th May.
Classic car enthusiasts can also head for Watermouth Castle on 2 June and enjoy the Watermouth Castle Car Show. See classic and unusual cars displayed at the front of the beautiful Victorian Castle. It's a free event and reduced entry price to Watermouth Castle for anyone displaying their car so you can enjoy a whole day of Watermouth Castle fun.
Stay outside this May Half Term at Becky Falls and discover what's in the woodland. Fine out about what amazing plants and animals live at and around the falls. Explore the amazing exotic animals in the animal and discovery zone and compare them to their British cousins. Not forgetting the 'Meet the Keeper' sessions and the children's stamp trail. You can even borrow an explorer backpack before you start on your expedition.
Kent's Cavern is a cool place to visit this May Half Term so why not join them and enjoy their 'Ice Fest' holiday fun week. There will be a full programme of events and a range of activities celebrating the remarkable story of Ice Age animal and Stone Age human occupation of these caves. Great fun for all the family.
Still stepping back in time, its Dino Week at Woodlands Family Theme Park. Get ready to step into a world set 160 million years ago and encounter dinosaurs in their natural habitat in the Dino Trek attraction and Roary the interactive Dinosaur will be there too making an appearance. Plus, Titan the Robot will be there on 28th May and back by popular demand is the Fizz Pot Science crew who will be there on 31st May.
There's more Dinosaur fun at Seaton Tramway on 27th May and 31st May where you can adventure to a land that time forgot. Board the adventure filled tram ride with music, stories, fossil dig and dinosaur activity and help Professor Percival uncover the secrets and fulfil a mission to make contact with some forgotten species. Pirate lovers can take a ride on the Pirate Tram – the Seaton Pearl and The Fairy Special tram too which will both be running over half term on selected dates.
Head for The Big Sheep, North Devon, they have a Unicorn and Dragon Week. A mystical magical week packed full of family fun. If you have ever fancied meeting a real unicorn or having a selfie with a dragon them The Big Sheep is the place to visit this half term. Meet Dreckly the Dragon, a huge interactive walking dragon, take pictures, hear him roar and learn weird and wonderful facts from the brave knight. Plus, don't miss all the other usual fun on the Big Sheep's rides, attractions and live shows, pets corner session, lamb feeding and the world-famous sheep racing.
Back by popular demand and for all those 'rails and ales' fans out there is the Whitsun Bank Holiday weekend Spring Beer Festival at South Devon Railway from 24th – 27th May. Plus there'll be steam trains running all over the May Half term. While over at Coldharbour Mill and Country Park they have a steam day on 27th May where they bring the past back to life and catch a unique glimpse into the industrial revolution where you can experience the sights, smells and sounds of a woollen mill powered by steam power.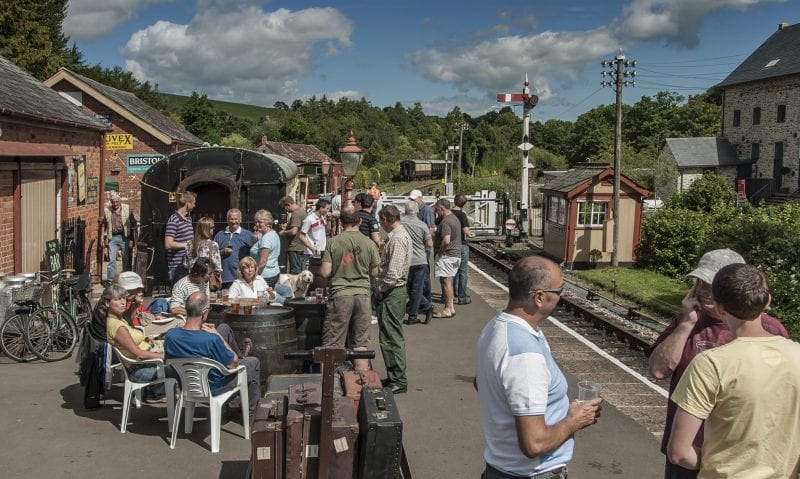 There's a day long Geology field trip along the south Devon coastline on 24th May on board Stuart Line Cruises. With a leading Geologist on-board giving full commentary and fantastic detail about all the rock formations and our ever-changing heritage landscape as you gently sail past and take in the stunning coastline views. Stuart Line Cruises will also be setting sail for the Torbay Air Show on 1st – 2nd June, the best way to see and hear the Torbay Air Show is by boat.
Over at Bygones in Torquay, you can help celebrate Queen Victoria's 200th birthday at the annual teddy bears picnic, bring along your teddy and try and spot the ten hidden teddies and complete the quiz for a sweet treat. Or there's a 'Seaweed Festival' on the 26th May at Clovelly, held to promote seaweed for its immense health and nutritional benefits. Try some of the dishes made from seaweed and see the range of stalls selling seaweed products and arts and crafts.
To find out more details of all these events and where many more are taking place, go online to www.devonstopattractions.co.uk