Just the Ticket for all Devon steam railway enthusiasts and food lovers
A bright and chilly Sunday afternoon and three generations of the same family were heading out together to experience this Devon steam railway must do dining experience. We had been lucky enough to have booked a table for four on the Restaurant Car of the multi award winning South Devon Railway for the launch of their new Afternoon Tea Experience. The stunning steam locomotive travels from Buckfastleigh to Totnes and back again along the beautiful valley of the River Dart while you enjoy the finest high tea!
We arrived early so we could have a proper look around, which turned out to be a big part of the day. We easily parked on the ample car park and then literally stepped back to a bygone era. My 87 year old mother was in awe of the station with its original artefacts and interesting features. It really did feel like we were being effortlessly transported back to a far less complicated age. The platform is strewn with nostalgic memorabilia including some original advertising signs of all those well-known household brands that we all remember and love. There is an original luggage trolley and a milk churn trolley on the platform which set my mother off on a journey back to the past, to story tell and reminisce and tell her granddaughter what life was like back then.
Further along the platform is the South Devon Railway Museum and it's definitely worth a look.  It's in the former goods shed and the aim of the Museum is to present a picture of the Ashburton branch line throughout its life, taking you on another interesting journey. The Museum holds a fascinating display of pictures, photographs, artefacts and information boards and it also holds the only surviving broad gauge locomotive called Tiny, which takes pride of place.  Venturing back onto the platform it was a bit chilly, so we headed for the booking office.  On entering we were hit by the warmth and sight of a real fire, roaring away in the impressive original fireplace, another lovely nostalgic touch. Turning around you see the working booking office and see the staff in traditional uniforms, which instantly sends you back, yet again, to that bygone age.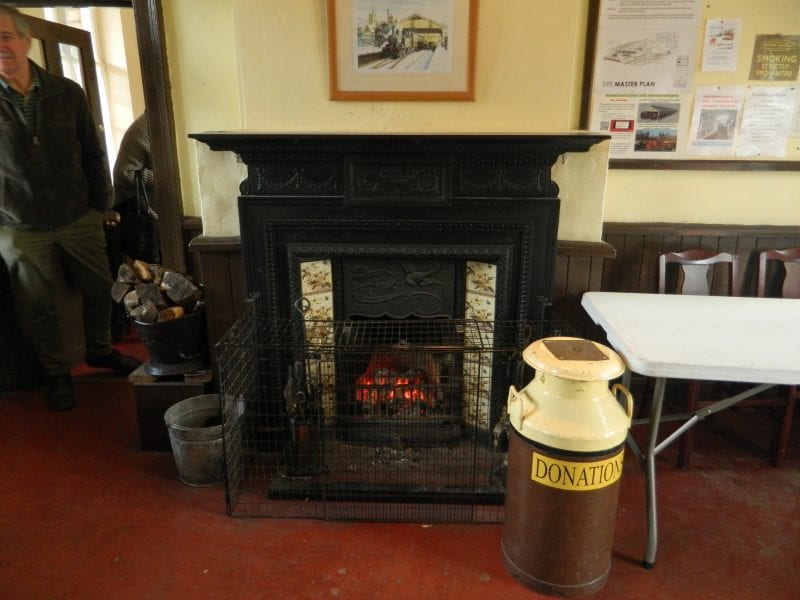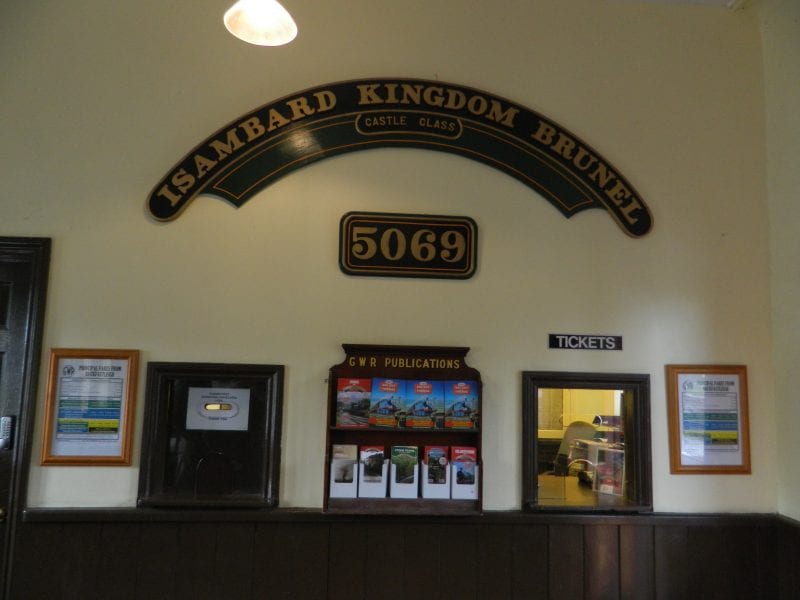 We headed back out onto the platform, took a seat on a handy bench and waited for our mode of transport to arrive. We were thrilled to catch sight of the magnificent steam locomotive heading towards us with the smoke billowing out of its chimney.  As it got nearer, the sight, smell and the sound all added to the atmospheric experience. As the train drew to a halt through the windows we could see the beautifully set tables of the restaurant car, all decked out in its finest, waiting to entertain.  The friendly and helpful guards ushered us onto the train and then led us to our reserved seats and with no rush for the elders.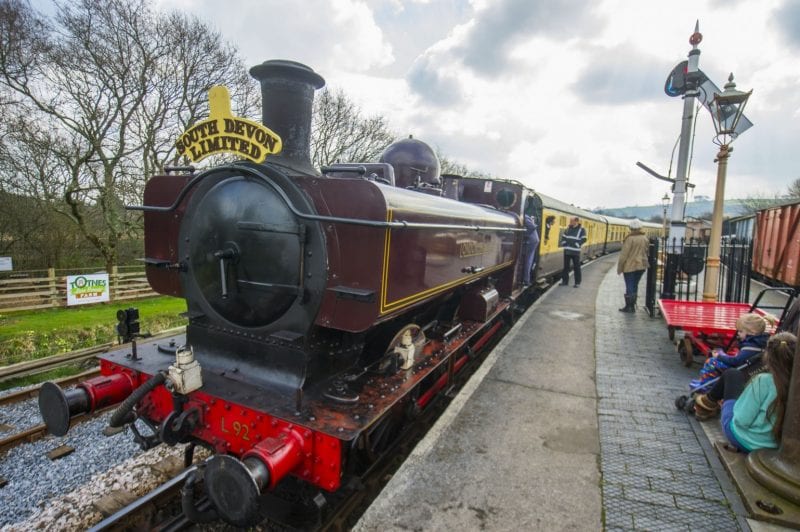 Once in our comfy seats we marvelled at the loveliness of it all and the attention to detail. Tables decked with Pullman-style lamps, china cups and saucers and polished cutlery. After a friendly welcome from the restaurant car steward who even offered to take a photograph of us, we were asked what kind of tea we would like, from the wide choice available. On giving our order we heard that symbolic whistle of the steam train that everyone is always excited to hear, and we were off on our 'Afternoon Tea' journey.   We were given a large china teapot full of tea (and refills if we wanted) and a wonderfully presented three tier cake stand full of delicious West Country delicacies. A selection of sandwiches, savouries, cakes and a superb cream tea lay before us, all homemade and beautifully presented. Whilst we indulged in our feast, we looked out of the window and enjoyed the wonderful views along the River Dart and the stunning Devon scenery. As we journeyed along we passed the delightful Staverton Station, small quaint and authentic. This coupled with the sight of wild primroses and daffodils along the railway embankments and as the trees were still pretty much leaf free, there were extra glimpses of the beautiful River Dart, all adding to this wonderful spring time outing. On our return the amount of food had beaten us, but the steward kindly asked us if we would like a box to take the remaining cakes home with us, which was yet another nice touch.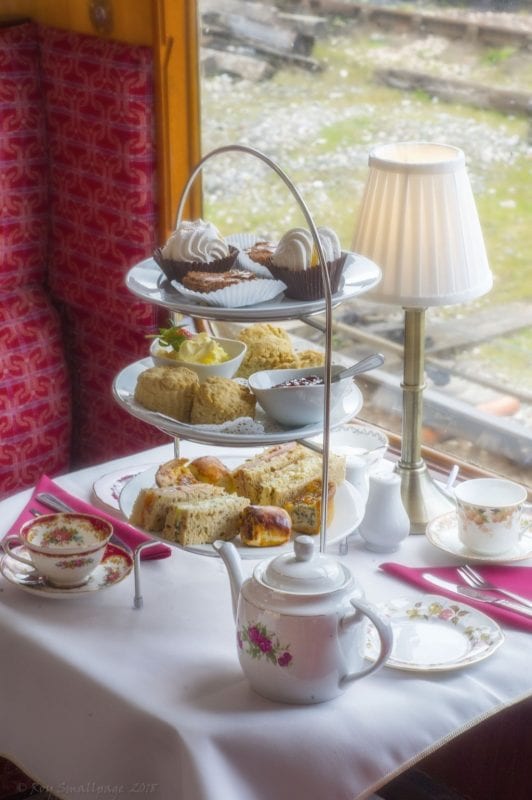 As far as railways attractions in Devon go, the South Devon Railway's 'Sunday Afternoon Tea' experience is a winner for all ages, a unique experience, not to be missed.  These special dining trains only run between March and September and on selected Sundays. You can book a table for two or four for Afternoon Tea and there is a three course Sunday Lunch option too. It was 'just the ticket' for three generations of our family and made a very special Sunday treat.
Find out more about this Devon steam train experience on the South Devon Railway website here or ring 01364 644370.