We're Going On A Bear Hunt…….
Recently I was lucky enough to be invited back to Wildwood Escot to take part on another of their unique animal feeding experiences. They had just launched their NEW Bear Cub Feeding Experience and I was privileged enough to be one of the first to take part and what an unforgettable experience lay in store for me…..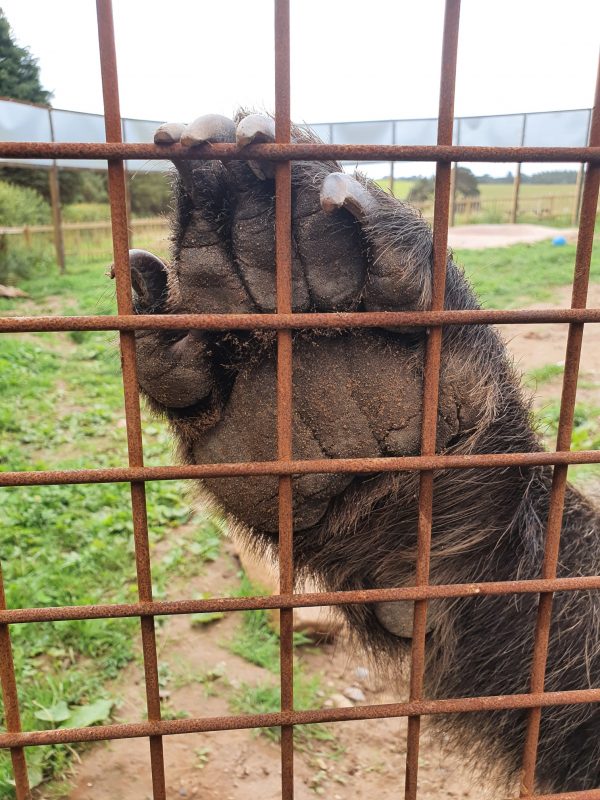 A 'Beary' Sad Tale!
In May this year the British Wildlife Conservation Charity – Wildwood Escot – welcomed two Eurasian Brown bear cub siblings to a brand new and purpose-built enclosure in East Devon near Ottery St. Mary.
The two brown bear cubs named Mish and Lucy (named after Lord and Lady Kennaway at the Escot Estate) were orphaned cubs who were unable to be returned to the wild and were rescued from certain death in the Albanian mountains in 2019. They were first held in a temporary enclosure in Belgium but needed lots of enrichment and a natural environment that would help them to develop their natural bear behaviours. The bear cubs needed space to explore, play and learn to forage as they would in the wild. The natural environment that the Wildwood Trust offers was an ideal choice. Wildwood's sister park in Kent is already home to two successfully rehabilitated brown bears and so Wildwood Escot in Devon was given the chance to welcome these two bears to their East Devon site.
After a short stay at the sister park – Wildwood Kent – earlier this year, Mish and Lucy were transported to their permanent Wildwood Escot home in East Devon. Now some months on the siblings have settled in nicely and are enjoying their new life. They are getting plenty of enrichment and are thriving in their new environment.
However, the bears will be on the move again, but only next door and still at the Devon park to their forever home which is currently being custom-built. This new home is on a massive scale and the Trust is currently trying to raise funds to complete this project. More about this later.
Visitors can now, not only see the bear cubs on a normal visit but there is an option to book a 'once in a lifetime' animal experience to meet and learn all about the bears on their NEW 'Bear Feeding Experience. This is part of the expanding private animal encounter experiences that the park now offers, and which are becoming increasingly popular. Other unforgettable experiences offered at the park include animal feeding encounters with red squirrels, wolves, and an Arctic Fox.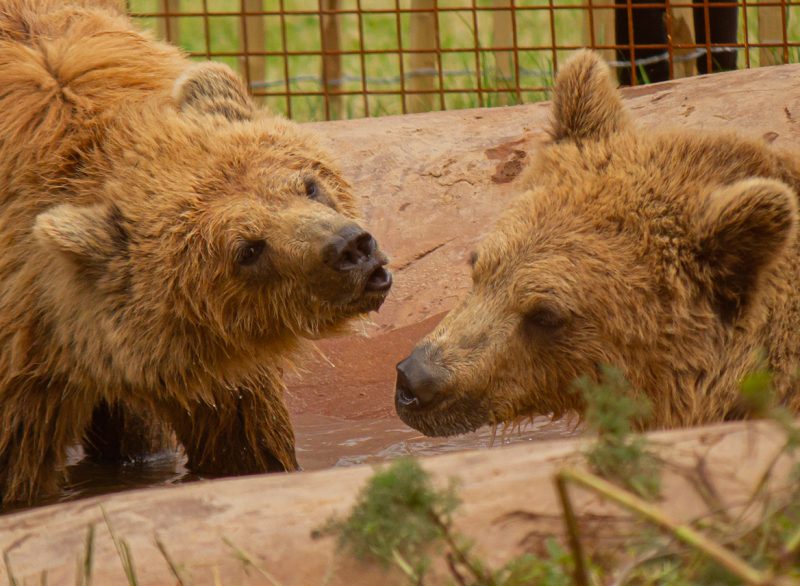 A 'Bear' Encounter
So, let's tell you about my very own 'Beary' experience. I had to head out early as the encounters usually happen before the park opens for the day to normal visitors. My head full of excitement and anticipation and looking forward to meeting up with another journalist friend who was also invited.
We were met by two of the park's amazing keepers. Ben Gregory and Tanith Meyer who are both hugely knowledgeable and passionate about their jobs and who you could see were genuinely interested and in awe of these incredible and wonderful animals. Their enthusiasm is plain to see.
Learning about the welfare and behavioural patterns and the different types of enrichment that the bears receive all provide an extra level of interest. Ben and Tanith's vast understanding and knowledge of the bear's behaviours and individual mannerisms made the experience even richer and more insightful.
The visit started with a feeding encounter. We were given a bowl of monkey nuts and dog biscuits which we were able to carefully hand feed to the cubs through the fence. We were amazed at how gentle and slowly the bears took the treats from us. There was no aggression or grabbing at it. This did set a false sense of security, but Ben and Tanith quickly reminded us that they are wild, dangerous animals and that there are always strict safety protocols in place.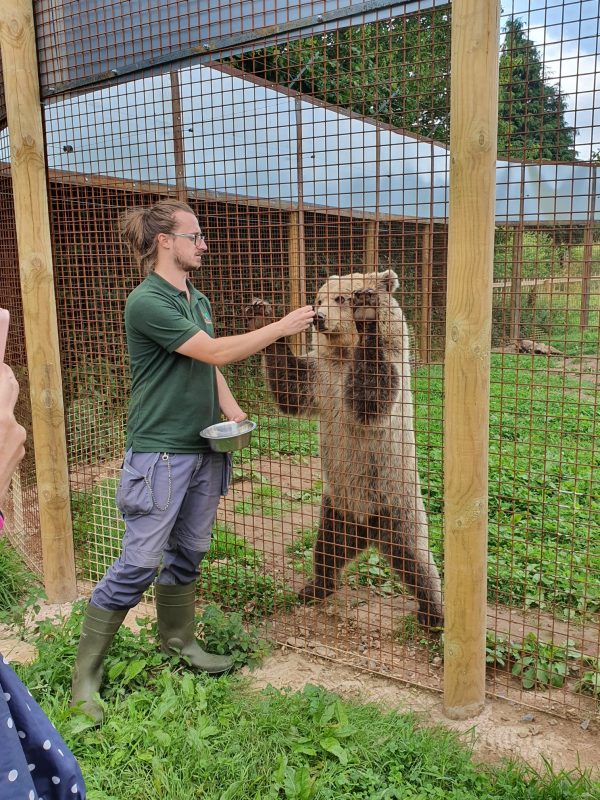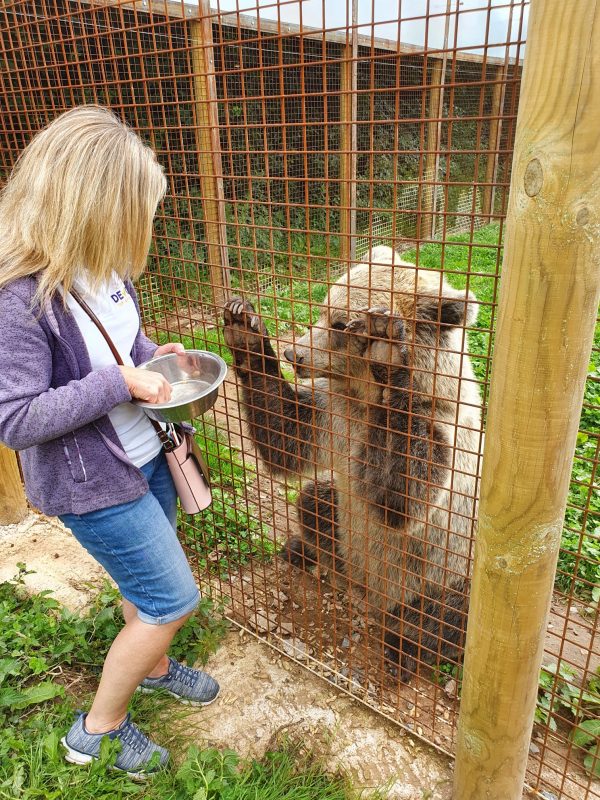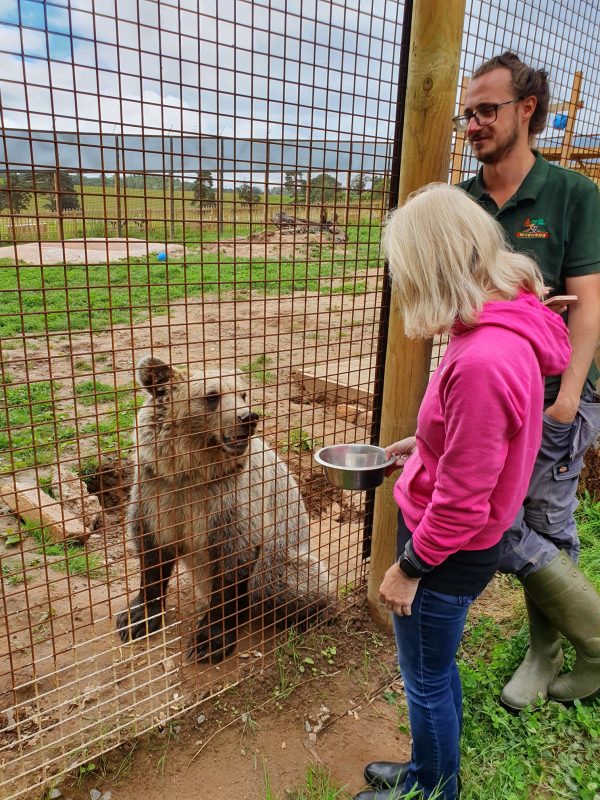 Just looking at the bear cubs, adorable and cute and seeing how gently they took the food from us it was hard to believe that they could so easily fatally injure us with their powerful strength.
In sheer amazement with the hand feeding, we were moved onto the next stage of the encounter. The siblings were locked in their hut so we could safely enter their enclosure, to take part in one of their daily enrichment exercises. We entered the enclosure, and the keepers gave us a bucket of feed of seasonal vegetables and dog biscuits. We were encouraged to be adventurous in where we were hiding the food. It all forms part of their enrichment as they then have to forage and sniff out and explore to find their food instead of us just scattering it on the ground. We hid the food in holes, under logs and right on the top of a platform they like to climb, we weren't making it easy for them. We then retreated out of the enclosure ready for the bear cubs to return and start to hunt for their food. We were then astonished at how the bear cubs were sniffing out their food and amazed at how quickly they were finding the most well-hidden treats. More enrichment challenges include other food treasure hunts where they put a favourite treat into a puzzle type box and the bears need to work out how to open it. They also have tree climbing, rope challenges and other sensory and cognitive enrichment all as part of their rehabilitation.
The experience was utterly incredible, and I would recommend this to anyone. An experience worthy of entry on any bucket list. A perfect gift for someone interested in getting up close and learning about these wonderful animals.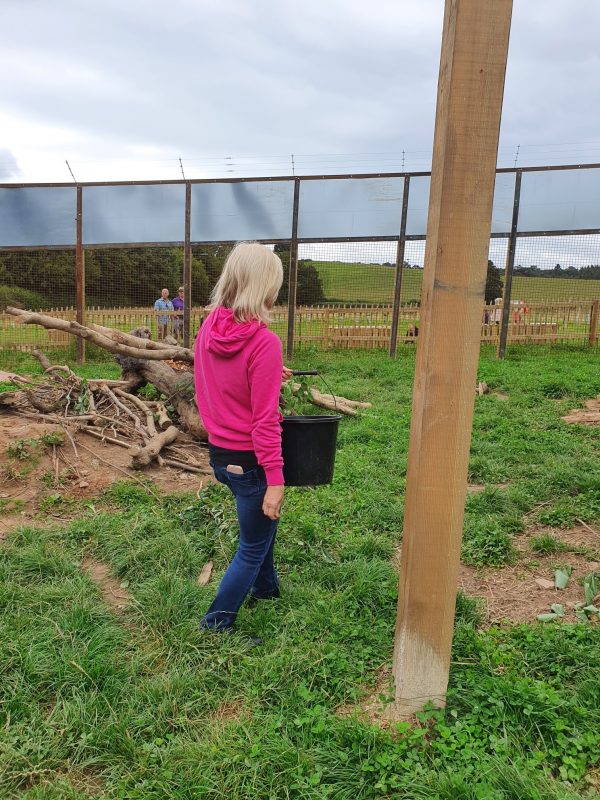 The Bear Enclosure Appeal
Mish and Lucy will be moving to their new woodland home enclosure when it is completed. Their new home will be a purpose-built designated enclosure, the size of one and half football pitches and will be a lifelong habitat designed with enrichment in mind. The cubs will be able to climb fully grown trees, they will have a completely natural habitat with fallen trees to forage and scramble across, rope challenges and daily food treasure hunts to enjoy. Sadly, as yet there is no fixed date for completion and moving the siblings as this is an ongoing fund-raising appeal. The Trust is in desperate need of support to help raise the £250,000 needed. If you can help please give here
This bear experience encounter was incredibly engaging and educational. I came away in full admiration for these wonderful animals and their keepers. I felt privileged to have been able to get up close and to learn about them. A memory that will last a lifetime!
George Hyde the General Manager at Wildwood Escot said "We are thrilled to finally have Mish and Lucy here and are excited to be offering these special unique feeding experiences. Giving visitors the extra chance to have a private up-close experience to learn more about our animals is very special and not offered in very many places."
If you wish to book one of the unique animal encounters and feeding experiences, please click here

The 'Bear' Facts
European Brown Bears when fully grown their height will reach up to 9 feet tall
Male Brown Bears can be at least 30% larger than females
An adult Brown Bear can weigh up to 660 pounds or 300kg
Brown Bears can pack on a massive 180kg of fat during the autumn in order to see them through the winter
General overview
Wildwood Escot's animal feeding encounter experiences offer an unforgettable and unique up-close experience. They are the perfect gift for anyone wanting to get face to face with some of Britain's past and present species. They offer an exciting and educational insight with a hands-on feeding encounter like no other.  These exclusive animal encounters are a top experience offered by one of Devon's Top Attractions.
George Hyde, General Manager at Wildwood Escot says, "The experiences allow us, in a controlled and safe way, to remove the normal barriers that people have on a visit. People are able to see the animals in a totally different light".
Unique experiences at Wildwood Escot now include:
Red Squirrel Feeding Encounter
Arctic Fox Feeding Encounter
Wolf Feeding Encounter
Bear Cub Experience
Night Tour Experience
Foraging Wild Experience
Junior Keeper Experience
To find out more and to book click here
Wildwood Escot – A top Devon Day out for all the family
Wildwood Escot continue to get great reviews. This top Devon day out appeals to all ages, is open all year round and is set in stunning Devon countryside. The Trust is well-respected for its conservation work and has an amazing collection of native British Wildlife past and present.  The whole day out is a lovely mix of all-round entertainment and unforgettable experience for all the family and is set in a 220 acre site.
So, it's not surprising that it is listed as one of Devon's Top Attractions and proudly holds the Devon quality day out stamp.
Find out more about Wildwood Escot here
For further information and booking a visit www.devon.wildwoodtrust.org