Rosemoor Live!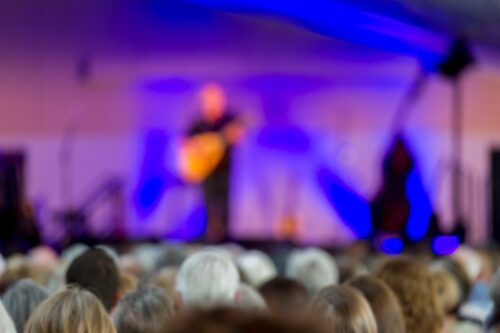 Enjoy a fantastic line up of events this summer at RHS Garden Rosemoor.
Evenings of live music and dancing, inspiring afternoon talks and book signings, and a science extravaganza for the whole family.
Rosemoor Live! T'Pau, Friday 20 May
Lead singer Carol Decker performs all of T'Pau's biggest hits including China In Your Hand, Heart & Soul and Valentine, songs from 2015 album Pleasure & Pain, and stripped-back performances of classic tracks.
Rosemoor Live! An afternoon with Amanda Owen, Wednesday 18 May
Be part of our afternoon with Amanda Owen at Rosemoor. She is a shepherdess, mother to nine children, a passionate photographer and Sunday Times bestselling author.
During the afternoon, hear Amanda speak about her passion for the great outdoors, as well as her insightful opinions and good humour that have made her a popular public speaker.
Rosemoor Live! Unbelievable Science with Morgan & West, Sunday 22 May
Join Morgan and West for a fun family science extravaganza filled with captivating chemistry, phenomenal physics and bonkers biology. Expect explosive thrills, chemical spills and a risk assessment that gives their stage manager chills.
Rosemoor Live! Alys Fowler, Thursday 26 May
Spend the afternoon with gardener, writer and presenter Alys Fowler for a look into her life and work. Learn more about her latest book, Eat What You Grow, in which Alys shows you how to create a rich, biodiverse garden that feeds not only you but supports pollinators and other wildlife.
Rosemoor Live! Showaddywaddy, Thursday 30 June
Hear the rock and roll sounds of Showaddywaddy, which recently celebrated its 40th anniversary, featuring all the biggest hits including Under The Moon of Love, Three Steps to Heaven and many more.
Rosemoor Live! The Fleetwood Mac Songbook, Saturday 2 July
Celebrating one of the all-time great bands, enjoy live renditions of the Mac's best-known and well-loved songs – expect to hear classics including Go Your Own Way, Little Lies, Dreams and many other timeless songs.
Rosemoor Live! CK Gospel Choir, Sunday 3 July
This 16 piece group from London have performed at venues such as the Jazz Café and the Pigalle Club, and backed artists such as Beverley Knight, Peter Andre and Alfie Boe. Enjoy traditional gospel mixed with jazz, soul, blues, classical and Latin genres.
Rosemoor Live! Jo Thompson, Wednesday 6 July
Listed by House and Garden and Country Life magazines as one of the country's top ten garden designers and plantswomen, Jo has been the recipient of four Gold and five Silver Gilt medals at the RHS Chelsea Flower Show, and in 2017 she won the People's Choice award at the first RHS Chatsworth Flower Show.
Jo is a member of the RHS Gardens Committee and Garden Advisor for RHS Rosemoor, an RHS judge, as well as being a member of the RHS Show Gardens Selection Panel.
Designer of our newest garden, the Cool Garden, Jo joins us for an afternoon to discuss her inspiration and her passion for design.
Rosemoor Live! Musical Bingo, Friday 8 July
In Bring & Share's Musical Bingo, guests are given cards with song titles instead of numbers to mark off as they're played by B&S's pioneering DJs. Expect silly prizes from Glo-sticks to toasters and themed cocktails from the bar.
Rosemoor Live! The South, Saturday 9 July
This nine-piece band featuring former members of The Beautiful South, including singer Alison Wheeler and sax player Gaz Birtles, brings back treasured songs including A Little Time, Perfect 10 and Rotterdam plus a few South originals.
Devon Opera – Opera for a Summer's Evening, Wednesday 27 July
With the backdrop of the gardens to enjoy, fine food and professional opera singers with piano accompaniment, this grand experience of popular arias, duets and opera extracts offers an opportunity to dress up in evening finery.
Rosemoor Live! 3 Daft Monkeys and Wilderland, Friday 23rd September
One-man-band Wilderland gives a 'what you see is what' you get performance with audience participation encouraged, while award-winning Glastonbury veterans 3 Daft Monkeys lead the audience through a musical journey of the senses in a theatrical live performance.
Rosemoor Live! Ceilidh Night, Saturday 24th September 
Come together with friends and family for a night of live entertainment with Banned From The Moor, a lively and multi-talented band based in Dartmoor playing a varied mix of traditional and contemporary dances and songs.