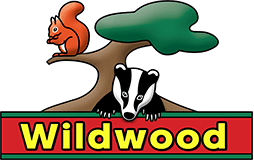 Find out how we got on feeding red squirrels, a pack of wolves and an arctic fox at Wildwood Escot's NEW Animal Feeding Experiences.
Working in tourism I've been lucky enough to be asked to attend and participate in many different experiences and activities. Being asked to take part in not one but three of the NEW Animal Feeding Experience Encounters just launched at Wildwood Escot was a definite no brainer for me. I mean, who wouldn't want to get up close and personal with some of our native British wildlife, past and present?  Who wouldn't want to get so close to a wolf you can feel its breath? Or hand feed a nut to an adorable red squirrel?  Where else in Devon, or even in the whole of the country for that matter, can you do this?
An early start saw me head towards Wildwood Escot with memories of taking my own children to Escot Park which it was once called. Memories include getting lost in their maze, watching the bird of prey shows, seeing the playful otters and enjoying all the outdoor activities. Of course, that was several years ago, and Wildwood Escot has grown and developed enormously since then to what it is today and what it now has to offer holiday makers or local families.
Is Wildwood Escot conservation friendly?
In 2015 the Wildwood Trust took over, opening their second park at Escot. The trust is one of the leading British animal conservation charities in the UK and is dedicated to saving Britain's most endangered wildlife. Their mission to protect, conserve and rewild British wildlife. Putting this mission into practice the Trust has taken part in many pioneering conservation projects. These have included saving the water vole, bringing the extinct European beaver back to Britain, plus returning the hazel dormouse and red squirrels to areas where they were once common, but are now entirely absent.
Things to do in Devon at a top Devon day out!
All this is marvellous and with the amazing animals, the well-respected conservation work and its setting in breathtaking East Devon countryside it's not surprising that Wildwood Escot is also listed as one of Devon's Top Attractions having been awarded membership and the esteemed top Devon day out quality stamp.
Well, we've only just touched the surface to what Wildwood Escot has to offer a family for a fun-filled family day out in Devon. They still have their magnificent maze and some of the original quality outdoor adventure play, with this having been expanded tremendously. They now have a thrilling 40m zip line, traversing walls, a trampoline and the terrifying tree-top-drop-slide as well as acres of outdoor space to enjoy and explore.  They still have the adorable otters but also now have a wonderful walkthrough woodland enclosure for red squirrels. Other animals include, wildcats, indian blue peacocks, wild boars, lynx and the adorable hazel dormouse. Then there's the wolves and Lyra the arctic fox ….. more on these shortly. Apparently Escot also shares its grounds with a diverse selection of resident bat species.
After getting lots of fresh air and exercise, part of a winning day out for me is to make sure I have a tasty bite to eat. This can be done very enjoyably at the Coach House Café, located in the magnificent Coach House with its spacious courtyard, ideal for alfresco dining if the weather is good or in its roomy indoor area. A good menu is available which offers anything from a quick cuppa and a serving of delicious homemade cake to full hearty lunch.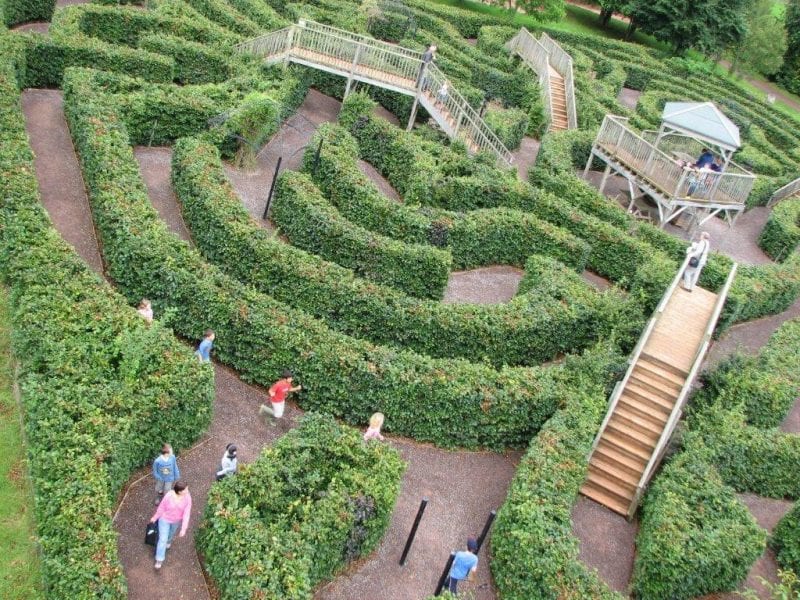 Does Wildwood Escot offer educational school visits?
Wildwood Escot also has a fascinating faithfully reproduced Saxon village where you can step back in time with early medieval costume, craft and culture complete with a historically authentic kitchen and forge. They offer different themed seasonal events throughout the year and you can see why the village is popular with teachers who frequently book their Devon school visits here.  The Escot education programmes expertly tie into the national curriculum for all key stages from 1-5. They also have an education centre and Yurt Village and offer both day programmes and residential trips all year round.
Ok, so that gives you a bit of an overview of what Wildwood Escot has to offer for a winning Devon day out or an educational school visit but now let's have a look at the NEW exciting Animal Experience days.
Where in the UK can you hand-feed red squirrels?
At Wildwood Escot's New Red Squirrels Feeding Encounter, that's where!
First off, we had a safety talk and were given some interesting educational information which added to the whole excitement of what we were about to experience.  I was taken aback by how engaging the staff were, led by Charlie Mead, the education manager. It was obvious to see her passion for her role and the work she does. It was equally so with the other two keepers and fascinating to hear the team's expert knowledge of each individual animal and their behaviours.
We entered the red squirrel enclosure by a double door safety system preventing any possible escapees. The enclosure itself is a lovely peaceful, tranquil place and it's a delight to walk through even without the squirrels making an appearance! There's a charming wooden boardwalk, well established trees and rich woodland offering a good natural habitat and source of food for the squirrels. The squirrels only eat one in three of the nuts and then 'squirrel away' the rest by burying them, apparently often forgetting where they are. This in turn adds to the conservation aspect in that it's is a wonderful way to grow new hazelnut trees into the future!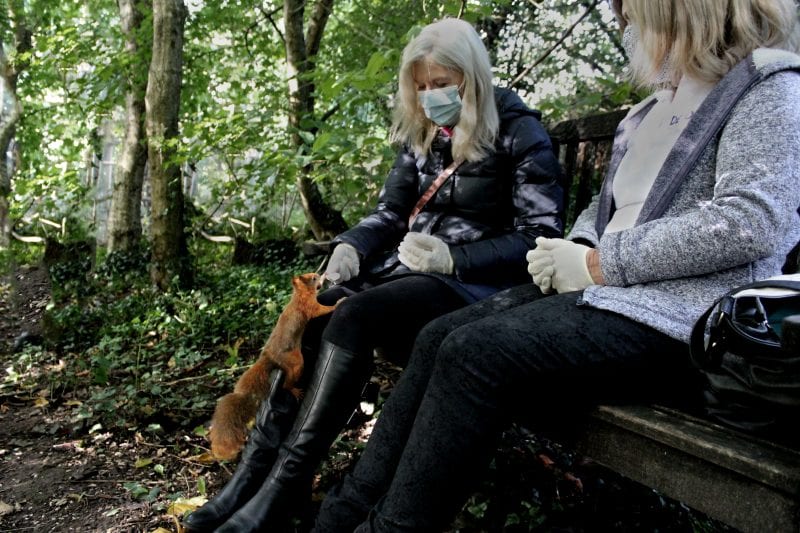 The enclosure is home to five adorable red squirrels, Blossom, Thyme, Cherry, Twiglet and Fern and each one has a very different personality. Hearing about their unique characters was really endearing and I just couldn't wait to meet them in person.  Apparently, Fern is the bravest and has been a resident for over eight years. The keepers say she is always the first to approach and take advantage of the tasty hazelnut treats. The staff have trained the squirrels to come forward by using a small hand-held clicker device. The training was initially for them to be able to hand-feed them medication inside a nut. Apparently, the little critters cannot resist a fully ripened sweet hazelnut.
We were told to sit on a bench in a particularly lovely part of the enclosure with a little pot of the tempting treats ready. The staff then started to do the clicking noise. Nothing happened for a few minutes, but we could hear some rustling around us. Then, lo and behold, a red squirrel appeared out of the trees and started to approach. And right on cue, it was Fern, the brave one. As she got nearer, I took a nut and put my hand to the ground, still holding my tight grasp on it and yes, this cheeky adorable creature took the nut straight from my hand! We took it in turns and the other squirrels also then started to approach and take the tempting treats. Fern, still the bravest, went one step further. She climbed up our legs and onto our laps and took the nuts straight from our fingers, staying just a second or two and then racing down our legs with the nut in her teeth.
This was an incredibly moving experience which I will never forget.  I was totally bowled over in getting face to face with these adorable and iconic British species. Feeding them by hand was a truly unforgettable moment.  Meeting them in their natural habitat and being immersed into the experience fully by the knowledgeable and passionate keepers was both educational and enlightening. A perfect gift for anyone wanting to get close to nature.
More details here
Where in the UK can you feed a pack of wolves?
At the NEW Wolf Feeding Encounter Experience at Wildwood Escot that's where!
Next up was the wolf feeding experience and the adrenalin was already starting to pump as the keepers gave us the safety and informational talk. As we approached the wolf enclosure you could hear the wolves moving around. This was in complete contrast to the red squirrel experience which was a soft and cuddly experience. This was both exciting and a little bit frightening.  Luckily, the interaction with the wolves stays firmly on the safe side of the fence. The wolves have been trained to associate a visit to the fence with a food treat. They are treated with chicken, fish or tripe which apparently is a favourite. Wildwood Escot respects that these are dangerous wild animals and training of them is minimal and in their best interests. There are six wolves in this enclosure, a family pack which includes two sisters and four brothers. I was interested to hear that there is no real hierarchy within the pack and both males and females seem to be on an equal footing. The males are called, Sting, Lemmy, Elvis and Moby and the females are PJ and KD. They all have their very own personalities. We were told that KD was the smartest, bravest and most curious and Lemmy was a bit of a joker.  Wolves are 'neo-phoebic' animals meaning they are cautious about new things, not keen on change, mistrustful and, can be, very timid.
We were given gloves, a pair of wooden tongs and a pot of chicken pieces. The wolf pack could smell the meat and were getting agitated and a bit aggressive with each other.  It was obvious they knew what was coming as they started competing and squabbling with each other for the food.  Totally safe on our side of the fence we were told to offer the meat piece by piece on the tongs. At the same time two of the keepers, Tanith and Ben, were further along the fence feeding a couple of the other wolves little treats to distract them away and to stop them all fighting for the same bits of food. General Manager George Hyde told us it's all about strategic feeding in a carefully managed and safe way.  Piece by piece the wolves took the food straight from our tongs. It was a very exciting and unforgettable encounter.
To exclusively interact with these magnificent creatures was an absolute honour. Getting up close to a pack of wolves, seeing their teeth and feeling their breath certainly got our hearts racing and yet we felt totally safe feeding them with the keeper's expert help. An amazing experience, one for the bucket list and an ideal gift idea.
More details here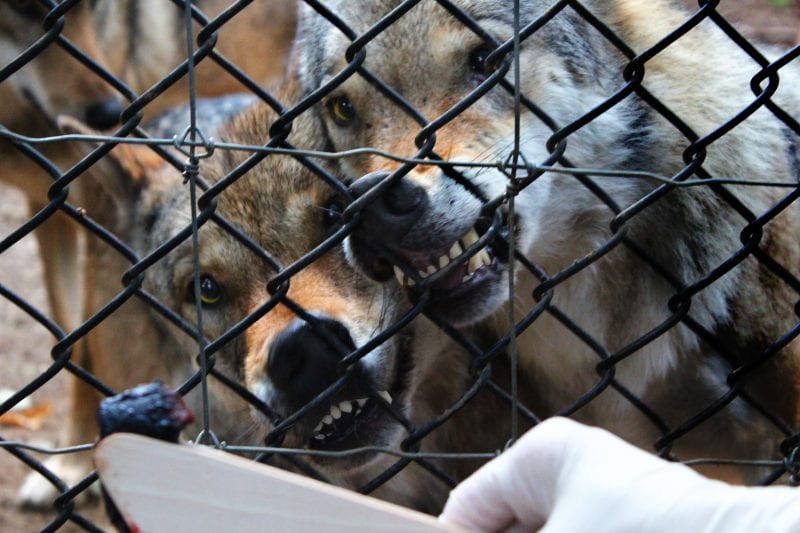 Where in the UK can you get exclusive access to an Arctic Fox?
Arctic fox feeding encounter
For our final feeding encounter, we moved around the park to a quiet area where there was an enclosure which is home to a gentle Arctic Fox called Lyra. The most amazing thing about the Arctic Fox is that it is like a chameleon and changes the colour of its fur to fit in with the season. Our encounter was in late September, Lyra had just shed her Summer light brown fur and was now a shade of steel grey. By winter, her coat will be a mass of thick white fur. I found it fascinating to see the transformation explained on the information boards on the outside of the enclosure and to hear the staff talk about it. The Arctic Fox was once native to the British Isles but has not inhabited our lands since the last Ice Age. It's a solitary animal, who likes to sleep a lot but is resourceful and especially active at feeding time. I was surprised to see that we could do the feeding encounter from within the enclosure through the double door system, which made the experience even more thrilling. Once inside we could see the enclosure had several tree platforms, tunnels, swings and a pond. There was also a little house that fitted well into the environment, but Lyra apparently only uses this when it's raining.  In high summer Lyra is given some of her meals frozen in ice blocks. This not only helps to cool her down, but also presents a challenge and acts as enrichment.
Lyra's diet on the day we were there was a mix of fresh and frozen chicks, raspberries, and peas. We were told to scatter some of the peas and raspberries on the ground and wait for her to approach. To be honest she wasn't too interested in these as she knew that her main course was coming and obviously, to her, juicy chicks were far more appealing. We were told to lay a chick on one of the tree platforms and to stand a little back. She soon approached and downed the chick in a couple of mouthfuls. We put the chicks on different platforms and sure enough, each time she couldn't resist the bait. Always cautious but calculated and she enjoyed her meal. Once all the chicks had gone, she went back to the peas and raspberries, obviously she favoured these more as a dessert than a starter.
Stepping inside the Arctic Fox enclosure was a memorable moment but then getting up close and personal and feeding this amazing creature was on a whole different level. The informative and educational keeper talk was first class and left you feeling totally absorbed in the experience. This is a 'must do' for anyone that loves wildlife.
More details here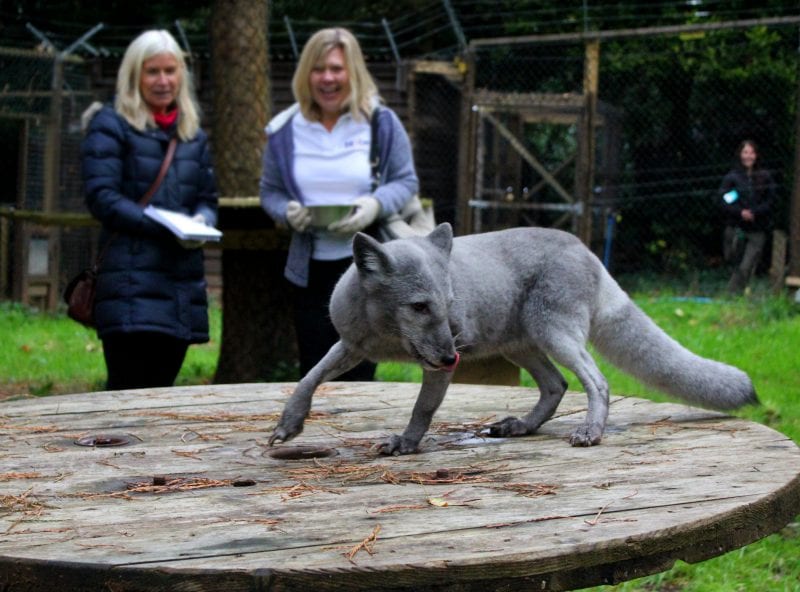 General overview
Wildwood Escot's NEW animal feeding encounter experiences offer an unforgettable and unique up-close experience.  They are the perfect gift for anyone wanting to get face to face with some of Britain's past and present species. They offer an exciting and educational insight with a hands-on feeding encounter like no other.  These exclusive animal encounters are a top experience offered by one of Devon's Top Attractions.
George Hyde, General Manager at Wildwood Escot says, "The experiences allow us, in a controlled and safe way, to remove the normal barriers that people have on a visit.  People are able to see the animals in a totally different light".
More animal feeding encounter experiences coming in 2021
If that's not enough, Spring next year will see Wildwood Escot welcome two orphaned bear cubs to their eclectic mix of animals. There will be a purpose-built designated enclosure and bear feeding encounters will be offered. They also plan to introduce a Junior Keeper Experience aimed at children aged 8-12 years.
Further information
The red squirrel experiences take place on Mondays and Saturdays at 9.30am. The wolves experiences are on Tuesdays and Fridays at 10.30am and the Arctic Fox experiences on Thursdays and Saturdays.
The visits are scheduled around the natural feeding times of the animals and include informative talks from the keepers. A £5 voucher to be used in the café is included and there's a chance to explore the rest of the beautiful park for the remainder of the day.
Visit  www.devon.wildwoodtrust.org  for further information and bookings.