Local family-run business, Stuart Line Cruises have been operating from Exmouth throughout the year for over 50 years – their brightly coloured vessels a very familiar sight around the Exe Estuary and surrounding coasts for locals and visitors alike.
Over the years, Stuart Line Cruises have built an excellent reputation and pride themselves on offering a hugely diverse range of cruises throughout the year, with something suitable for every interest, appealing to holiday-makers and local people. Since re-opening after lockdown on 4th July, they have been operating their full timetable with stringent COVID_19 Safety Measures in place and the demand for daytime coastal and river cruises has been unprecedented.
Over recent weeks there have been a number of enormous cruise liners at anchor off of the South Devon coast, close to Teignmouth and Babbacombe and clearly visible from Exmouth's expansive seafront. These have included three of P & O Cruises' modern ships and also Cunard's Flagship, Queen Mary 2. Having lost many of their evening private charter bookings due to COVID_19 and following an overwhelming number of requests and enquiries from people, Stuart Line Cruises readily embraced the unique and unexpected opportunity to introduce evening Cruise Ship Sightseeing Tours for the general public.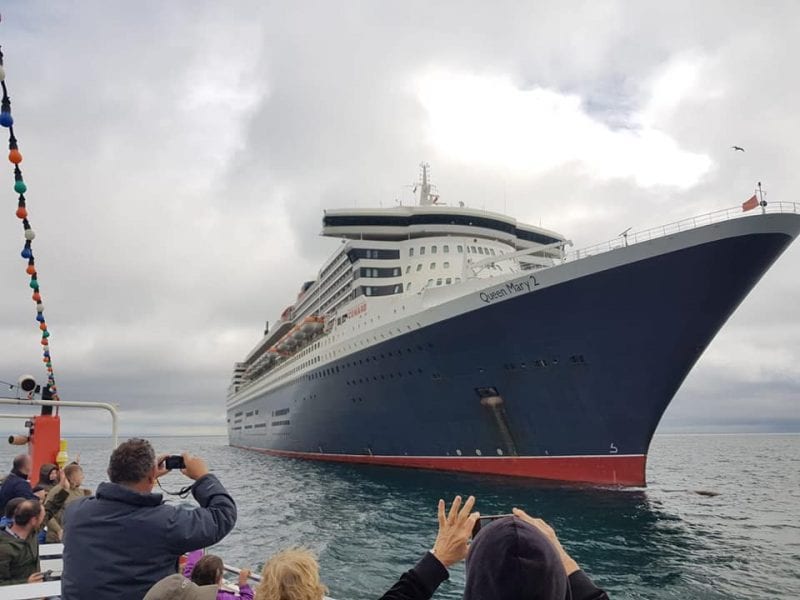 The cruises were advertised via Facebook and to their amazement, all tickets were snapped up in a matter of minutes (8 minutes to be precise – an all-time record)! The owner of Stuart Line Cruises, Jake Stuart, said: "This year has presented worrying and unfamiliar territory for all of us – we are not used to being the smallest passenger ship in Lyme Bay for one! We are taking no risks when it comes to COVID_19 safety; our safety measures are stringent with no exceptions
but running at only 1/3 of our usual capacity, as well as having our summer season so drastically shortened has hit us hard. Our hope is that these cruises can offer something extra special and distinctly different from what can usually be experienced when cruising along Devon's magnificent coastlines. Of course it is devastating to see these massive liners at anchor – they should be on their way to New York or cruising around the Mediterranean somewhere and it saddens me to see them almost empty. However, with every set back in life there is an opportunity to bounce back and find something positive. We want to provide a unique and fun experience for people during the current period of adversity and I really believe that to get out on the water and get away from it all is exactly what we all need from time to time. The cruise ships are fascinating and for many people, this may be the first and last time they have the opportunity to see them so close – it is a truly surreal experience. The amazing sunsets we have been blessed with have been a bonus and really help to sooth the soul and I hope to be able to offer these cruises for as long as the ships are here for."
To find out more about Stuart Line Cruises' Cruise Ship Sightseeing Tours please visit their website https://www.stuartlinecruises.co.uk/cruise-ship-sightseeing-tour/ and follow their Facebook page for regular announcements on upcoming dates https://www.facebook.com/stuartlinecruises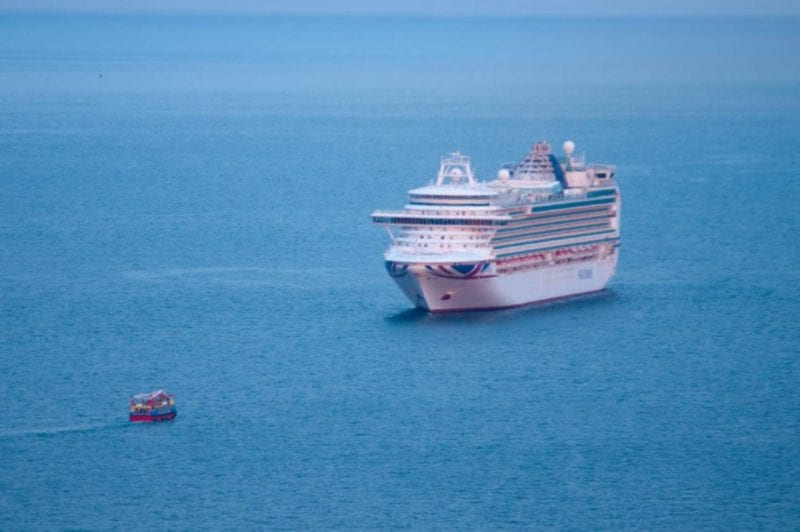 Find more sightseeing tours in Devon here